Robert Shiller: Investor Confidence In Equities 'Lowest Since 2000,' Housing Market Has Had 'Diminishing Momentum'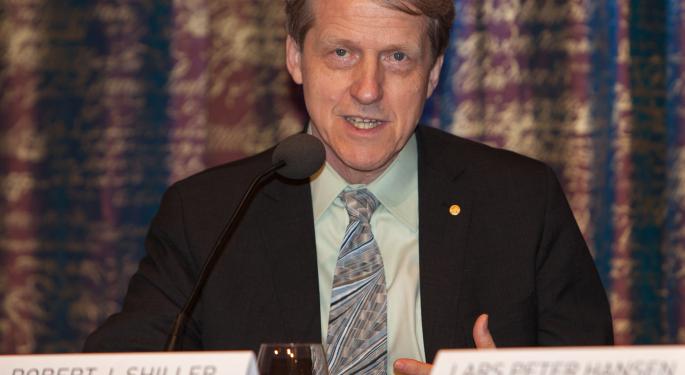 Nobel Laureate economist and author of the bestselling book "Irrational Exuberance," Robert Shiller, was on CNBC Wednesday to discuss the current valuation of the stock market overall and the health of the housing market.
Lowest Confidence Since 2000
"Well, the valuation is high," Shiller began. "My CAPE (cyclically adjusted price-earnings) index, which is price divided by 10-year average earnings, is higher than it's been except 1929, 2000 and 2007.
"The other thing is the public. I do expectation survey; the public worries that the stock market is overpriced. So, their confidence in the level of the market is at its lowest since 2000."
Related Link: What Would Rising Interest Rates Mean For The Housing Market?
Good Time To Diversify Internationally
Shiller was asked if he is still invested in equities. He replied, "I am in the stock market. I think I have to be careful, though, not to overexpose to that. Also, I think the U.S. is one of the highest stock markets in the world. So, I think this is a good time – some people are not very diversified internationally – this is a good time to rethink that."
Diminishing Momentum In Housing Market
On the current health of housing market, Shiller said, "The housing market has had diminishing momentum. Now, momentum matters more for the housing market than for other markets, because the housing market is less efficient."
He explained, "So, we saw a bottoming out of the housing market in most U.S. cities around 2012, and then we saw really rapid increases in home prices. And now that's starting to fade. It's weakening, and now it's down to just kind of average performance," Shiller concluded.
Image Credit: By Bengt Nyman (Flickr: IMG_7534) [CC BY 2.0], via Wikimedia Commons
View Comments and Join the Discussion!
Posted-In: CNBC Robert ShillerMedia Real Estate Best of Benzinga