Nick Hanauer: I'll Be The Last Person To Second Guess Amazon's Jeff Bezos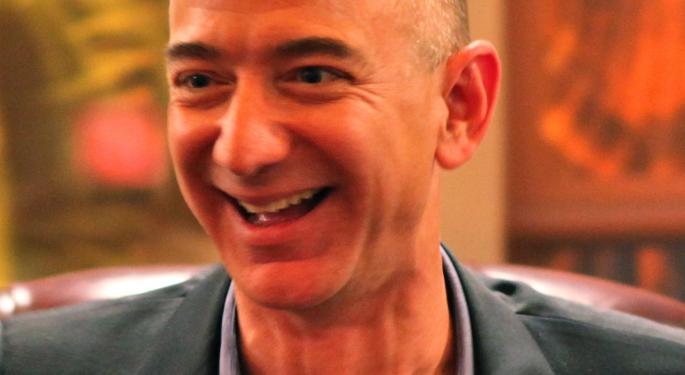 While Amazon.com, Inc. (NASDAQ: AMZN) is pressurizing a House oversight committee to not allow states or cities to regulate drones that are approved by Federal Aviation Administration (FAA), Reuters reported on Wednesday that insiders at FAA expects to finalize drone regulations in the next 12 months, instead of the 18–24 month range publicized earlier.
Moreover, the Wall Street Journal reported recently that Amazon might also be planning to launch an app similar to Uber that will pay people for delivering its packages.
One of the earliest investors in Amazon, and co-founder of Secon Avenue Partners, Nick Hanauer was on CNBC recently to discuss the regulations regarding drone use and whether Amazon investors could ever see the company declaring profits.
Related Link: Amazon's Shipping Overhaul
FAA Has Reasons
"We think products via drones is obviously a very complicated technology problem," Hanauer began. "And my partners and I backed one of the early drone companies, a company called Insitu that Boeing bought for $400 million a few years ago that does drones for combat and surveillance.
"And for a lot of very good reasons, the FAA has a lot to say about people moving airplanes autonomously through airspace above where people live."
Won't Second Guess Bezos
On Amazon not showing any signs of reporting a profit, Hanauer said, "I have been involved in Amazon from the very first day. Jeff […] sent stuff from New York to my house, and from the very first day he was focused on growth. If Jeff wanted that company to generate free cash flow, he could do it at the push of a button. He is trading off profits for growth; he has always been trading off profits for growth.
"Clearly it has worked out very well; I'll be the last person to second guess him on that," Hanauer concluded.
Image Credit: "By Jeff_Bezos'_iconic_laugh.jpg: Steve Jurvetson derivative work: King of Hearts [CC BY 2.0], via Wikimedia Commons
View Comments and Join the Discussion!
Posted-In: Boeing CNBC drones Federal Aviation Administration Insitu ReutersTech Media