Panera Bread CEO Weighs In On FDA's New Rule Banning Trans Fat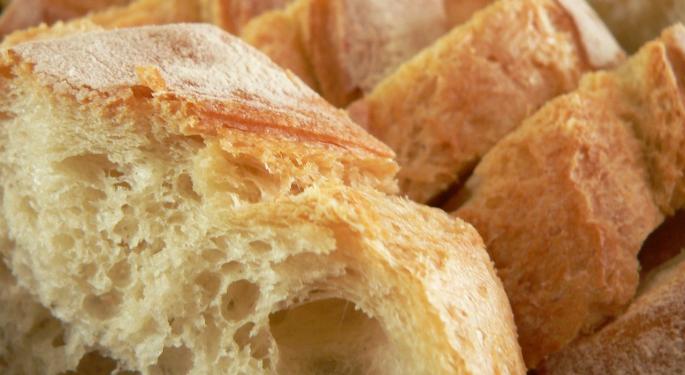 The U.S. Food and Drug Administration announced today that all food manufacturers must stop using trans fat within three years. While this might be a cause for concern for other food companies, it's a victory of sorts for Panera Bread Co (NASDAQ: PNRA), which nine years ago became the first food company to remove trans fat from its menu.
Ron Shaich, Panera Bread chairman and CEO, was on CNBC Tuesday to weigh in on the FDA's new rule banning trans fat.
Creating A Transparent Line In The Sand
"It's interesting; we announced a year ago our commitment and our food policy," Shaich began. "We activated it 30 days ago when we announced our clean food policy, which essentially represented a 150 ingredients that you would not find in a Panera.
"To us, it meant essentially creating a simple transparent line in the sand, so people knew when they walked into a Panera they were going to get food that was clean and food that was minimally processed."
Related Link: Cowen Upgrades Panera, Says It Can "Make Some Dough"
The Way Change Occurs
He continued, "What's interesting to me is the way change occurs to the marketplace. We have had any number of restaurant concepts that followed us to doing this. We announced it, within a week you had Noodles & Company, you had Pizza Hut, Taco Bell, Papa John's, now Subway, all announcing some versions of what we are trying to do."
Food That Consumers Trust
"The reality is that consumers want food that they can trust. They want food that's both good for them and it's simply good," Shaich said.
"Panera is moving to continue its two-decade policy of doing that. I think we are going to continue to see others following," Shaich concluded.
Image Credit: Public Domain
View Comments and Join the Discussion!
Posted-In: CNBC Noodles & Company Papa John's Pizza Hut Ron ShaichRestaurants FDA Media