Why Netflix Is Another Facebook In The Making?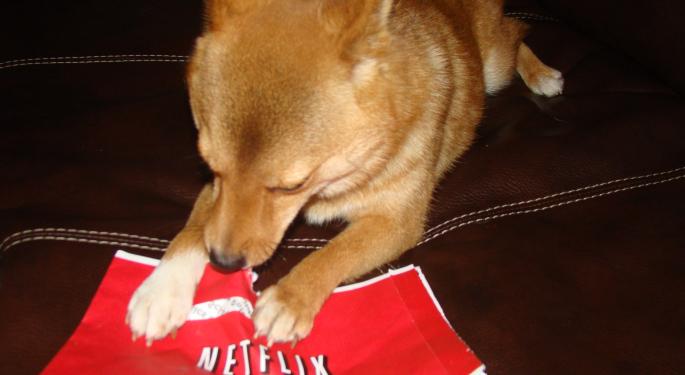 Shares of Netflix, Inc. (NASDAQ: NFLX) are up over 50 percent since last year and continue to make new highs. However, the question many are asking is, "Where does the company go from here?"
Paul Holland, general partner at Foundation Capital, an early stage venture capital firm that invested in Netflix in its initial days, was on CNBC Thursday to answer that question.
A Billion Consumers
On how much bigger Netflix can get, Holland said, "Step back a minute and think about it this way – when Mark Zuckerberg came into the market with Facebook some years back, the concept of a billion consumers online consuming content was beyond people's belief. Now, think about a company like a Netflix."
He continued, "Think about a company that will have potentially a billion consumers that are subscribing to digital entertainment content and then consuming that on a basis of like what we see today. And that's absolutely possible."
Related Link: "Netflix Is Like A Unicorn Made Of Pure Platinum," Foundation Capital Proclaims
Unlimited Potential Company
Holland was asked how high Netflix's ambition can go from here. He replied, "Well, I think one of the things that makes Netflix sort of an unlimited potential company is again, if you go back to the management team and you look at what Reed (Hastings) has built there. People like Neil Hunt, the chief product officer – who has won multiple Emmys by the way. The focus around talent, people like Patty McCord who was originally the Chief Talent Officer and now Tawni Cranz who is in that role.
"People like Barry McCarthy, who were the CFO and other very, very talented executives who are there now and have been there over the years. Reed's focus on building the absolute world's best management team to go after this market opportunity is what allows that unlimited opportunity to reveal itself," Holland concluded.
Image Credit: "Taro shiba opens his Netflix" by Taro the Shiba Inu. Licensed under [CC BY 2.0] via Wikimedia Commons
Posted-In: Barry McCarthy CNBC Facebook Foundation Capital Mark Zuckerberg Neil Hunt Patty McCordMedia
View Comments and Join the Discussion!