Indiana Continues To Outperform Other States In Employment Growth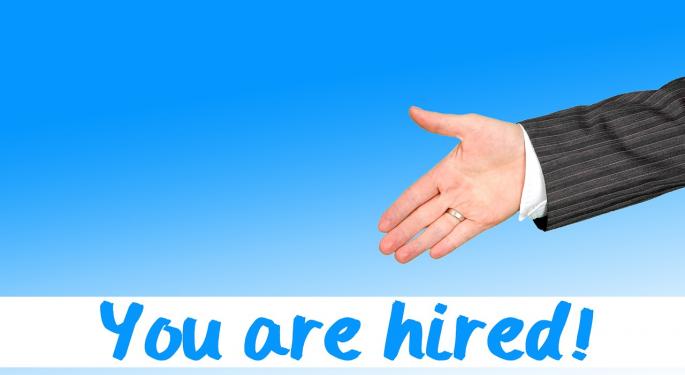 Paychex, Inc. (NASDAQ: PAYX) released data for its IHS Small Business Jobs Index for the month of May on Tuesday, which showed that jobs growth slowed down for the month.
Martin Mucci, Paychex CEO, was on CNBC to discuss the current overall state of employment in the U.S. and which states are performing well.
Moderate, But Inconsistent
"We are seeing growth, but it's just, it seems to be like the rest of the economy indicators. It's moderate, but it's inconsistent," Mucci said.
Central Regions Continue With Highest Growth
On the best regions for small business employment in the month of May, Mucci said, "The central regions are still the strongest than the East, North Central – kind of that Michigan, Indiana – seems to be the strongest. But all the central regions are still the highest level of growth. They are all over 101 in the index. But every region saw some tamper down of the growth rate kind of across the board."
Related Link: What To Watch For In April's Employment Numbers
Indiana's Outperformance
Mucci was asked the reasons for Indiana performing so well over the past few months in terms of job growth. He replied, "Well, what we see is construction, there was some construction that generally [has] come down in the month of May. Indiana continued to be pretty good in construction. The other piece we see is financial services. So, some things going on in Indiana from a small business perspective around construction and some of the financial services structures.
"And then in the Pacific, we are still seeing construction up. So, I think, housing is good in certain areas, but generally across the U.S. things have quieted backed down a little bit at least in May," Mucci concluded.
Image Credit: Public Domain
Posted-In: IHS Small Business Jobs Index Martin MucciCNBC Media
View Comments and Join the Discussion!