What The Street Is Expecting From Ruth Porat As Google's New CFO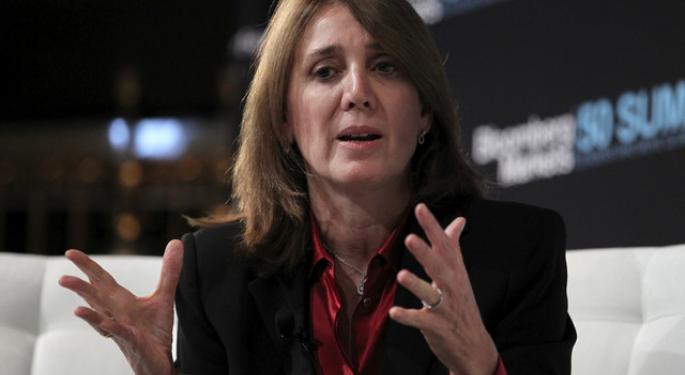 Ruth Porat would be taking charge as the CFO of Google Inc (NASDAQ: GOOGL)(NASDAQ: GOOG) Tuesday and, given her experience in investment banking, the Street is expecting a lot from her.
Ivan Feinseth, Tigress Financial Partners, was on CNBC recently to discuss what Porat can do with the cash pile Google is sitting on.
A Lot Of Money To Manage
"Well, she has got a lot she can do," Feinseth said. "I mean, Google is a very acquisitive company. I mean, Google could have bought Time Warner Cable. I mean, Google is in the— laying out fiber; they want to be in the communication business. They are a communication company."
Related Link: Goodbye, Wall Street; Hello, Silicon Valley! Morgan Stanley CFO Ruth Porat Moving To Google
Feinseth continued, "She has close to $80 billion in cash and about $32 billion in we will call EBITDAR or cash flow. So, that's a lot of money to manage to invest in R&D, to use for acquisitions to build the company."
Google Has To Make Decisions
Feinseth was asked with Porat as the CFO will go for more acquisitions and share buybacks. He replied, "First of all, based on the amount of cash they have and the amount of cash flow, they have to invest in the company, investing in R&D and investing in acquisitions to grow the company."
He continued, "They also have to make decisions about dividend policy; they don't currently pay a dividend. Stock buybacks – hey have to make decisions on how are they going to turn this cash or create value for the shareholder."
Related Link: RBC's Mark Mahaney: Ruth Porat Is A Very Good Appointee For Google
Don't Need To Acquire Twitter
On whether, as a shareholder of Google, he will be happy if the company acquires Twitter, Feinseth said, "We are Neutral on Twitter and I don't think it would be that much of an incremental increase, because they already do compete with Twitter. And I think they have as good, if not better, brand name than Twitter."
Image Credit: By Jin Lee/Bloomberg News [CC BY 1.0], via Wikimedia Commons
Posted-In: Ivan Feinseth Ruth Porat Tigress Financial Partners time warner cable twitterCNBC Media
View Comments and Join the Discussion!