Jim Chanos: 'In Another 3 To 4 Years, China Is Going To Be Like Greece'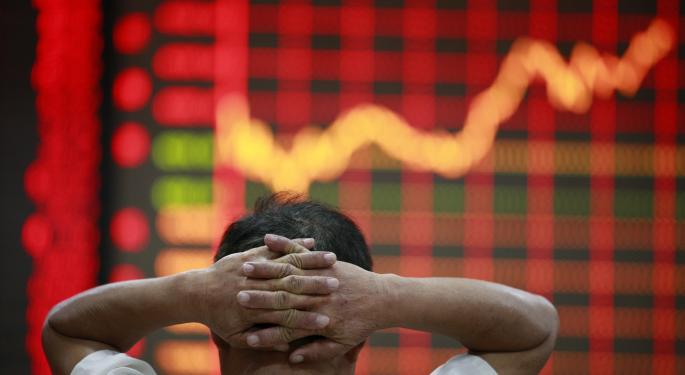 Famous short seller, hedge fund manager and founder of Kynikos Associates, Jim Chanos, has been in the news lately for his severe criticism of the debt-fueled growth of the Chinese economy. According to Chanos, the way China is taking debt, it is not far from becoming another Greece.
Chanos was interviewed in the latest episode of Wall Street Week that goes on air this Sunday. In an excerpt from that interview, here is what he had to say about China.
China Is Not Turning
"So, here is, here is the problem and the problem is the credit story," Chanos said. "And the Shanghai stock market, by the way is a very bad barometer. We are not short Shanghai. We have never been short or long the [A mart], the Asia market."
He continued, "When I started looking at China, it was 3,500, it went to 1,900 and now it's 4,300 and when it was at 1,900 nobody told me, 'oh this means this is the end of China.' It was just the Shanghai stock market, its retail market. Now that it's at 4,300. Everybody is coming out of the woodwork to say China is turning, it's not."
Soon To Turn Into Greece
On the exponential increase in debt being taken by China, Chanos said, "Chinese banking system is bloated and it's basically taking out more and more leverage. That same ratio is now 300 percent. So, in five years they have more than doubled their debt-to-GDP and I joke to my Chinese friends, but somewhat half seriously, another three or four years they are going to be like my homeland Greece. They are going to be at 400 percent."
The Greek Global X Funds (NYSE: GREK) is down 7.7 percent in 2015.
The iShares FTSE/Xinhua China 25 Index (ETF) (NYSE: FXI) is up 22 percent in 2015.
Posted-In: China Greece Jim ChanosCNBC Short Sellers Markets Media Interview Best of Benzinga
View Comments and Join the Discussion!