Why Wal-Mart Is Investing In Shipping: JPMorgan Explains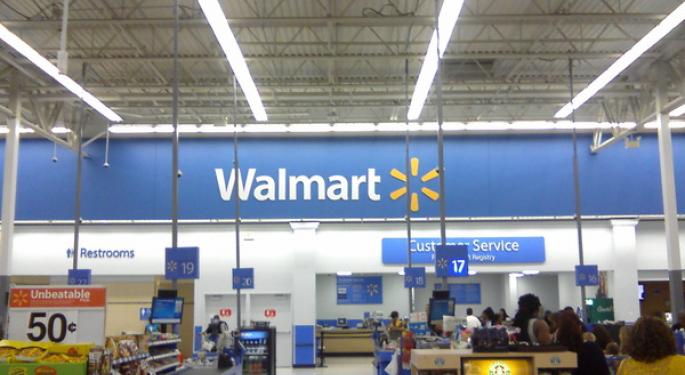 Wal-Mart Stores, Inc. (NYSE: WMT) announced recently that it is rolling out a free shipping service similar to Amazon.com, Inc. (NASDAQ: AMZN)'s Amazon Prime service, but at a price of $50 per year, which is almost half of what Amazon charges.
Chris Horvers, JPMorgan Chase senior analyst, was on CNBC Thursday to weigh in on this.
Wal-Mart's Two Realizations
"Wal-Mart, I think, has come to two realizations in the past couple of years," Horvers said. "a) Amazon took an opportunity that they failed to embrace and b) it's hard for them to acquire new customers into those stores because they already have a very high market share – let's say, 25 percent in groceries."
Related Link: Wal-Mart To Counter Amazon Prime With Its Own Delivery Service
He continued, "So, they have been investing. They now have 10 million available skews online. They have been investing in technology. They'll have over 200 points of distribution into the U.S.
"And I think the most interesting fact is if you look last year, the fastest growing category in terms of online growth was consumer product goods – so it's Bounty, it's Cheerios, it's Tide – that's the heart of Wal-Mart and they need to it to compete."
Crushing Competition
Horvers was asked that with other retailers having tried to compete with Amazon on shipping and most failing, will Wal-Mart be able to pull it off. He replied, "If you go back to what, how Wal-Mart crushed the competition in 1990s, they crushed them on having better prices, which Amazon replicated.
"The breadth of assortment, Wal-Mart has a 130,000 skews in the super center. Amazon has endless skews given online and they did it by very precise and very efficient logistics. That's a Wal-Mart core competency; Amazon's created that," Horvers concluded.
Image Credit: Public Domain
View Comments and Join the Discussion!
Posted-In: Amazon Prime Bounty Cheerios Chris Horvers CNBC JPMorgan Chase TideMedia