Dow CEO And Cramer Talk Laying Off 3% Of Workforce, Positive Outlook Ahead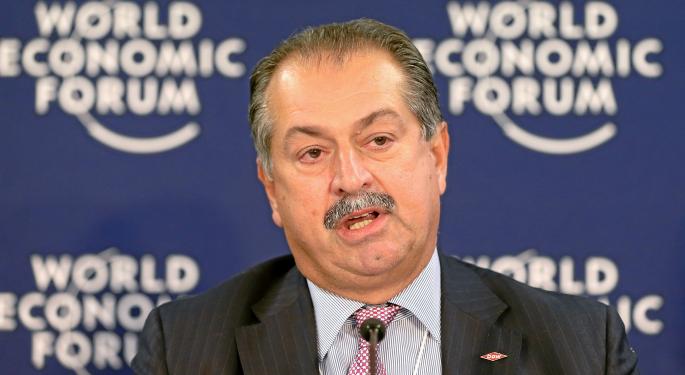 Dow Chemical Co (NYSE: DOW) announced on Monday that it will be cutting 3 percent of its global workforce as it prepares to merge most of its chlorine business with Olin Corporation (NYSE: OLN).
Andrew Liveris, Dow Chemical Company CEO, was on CNBC's show "Mad Money" recently to discuss with Jim Cramer the layoffs and Dow's European business.
Agility
"Productivity is a journey not a destination. Less is more, being more agile," Liveris said. "We had the opportunity with the Olin transaction, Jim, to look at our stranded costs with our new IT system we installed last year.
Related Link: DuPont CEO Kullman Issues Letter To Holders Urging Holders To Vote For All Co. Directors
"We are a technology driven company, advanced analytics, better data from the customer, trying to be streamlined is a never ending journey."
He continued, "So, today's announcement is an example of creating an agile, more market-driven Dow with less cost structures and more investment, where the investment should be, at the marketplace with customers."
Better Than Before
Cramer mentioned that Liveris has of late been bullish on Europe for Dow Chemicals and asked him the reasons for his bullishness. Liveris replied, "Germany is definitely benefiting from this recalibration of currency and Germany is an export machine and clearly there has to be export markets.
"That's a really good thing, and so that's what you are seeing out of Germany, and underlying demand in Germany is there.
"And I think if Germany is looking good and Northern Europe is starting to look good, there is the beginning of, let's call it, a 1 - 1.5 percent economy, which is better than what we have had," Liveris concluded.

Image Credit: By World Economic Forum (Flickr: Opening Press Conference: Liveris) [CC BY-SA 2.0 (http://creativecommons.org/licenses/by-sa/2.0)], via Wikimedia Commons
View Comments and Join the Discussion!
Posted-In: Andrew Liveris CNBC Jim CramerMedia