Keith Meister: Yum! Brands Is Well-Managed And Has Great Forward Opportunities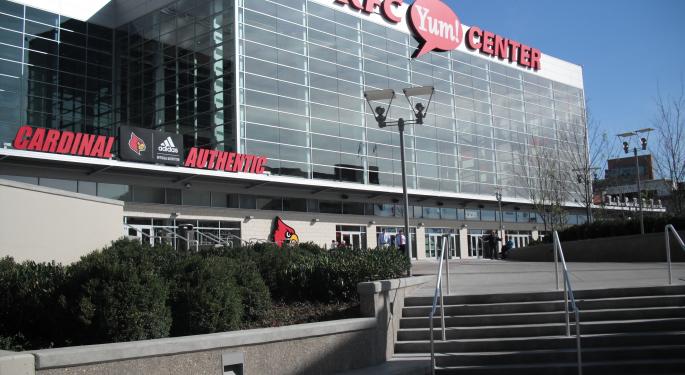 Yum! Brands, Inc. (NYSE: YUM) hit an all-time high of $94.13 on Monday. Shares of the company surged on back of comments made by Corvex Management founder and CIO Keith Meister at the Ira Sohn conference, revealing that his hedge fund owns $1.5 billion of Yum's stock. Additionally, Meister proposed that the company should split its China unit into a separate entity.
Speaking with CNBC's Scott Wapner, here is what Meister had to say about Yum brands.
Fixing Issues
"Yum Brands is a phenomenal business with three iconic brands," Meister said. "That's a well-managed company with a great opportunity going forward.
"However, over the last couple years, they have been hit by some food-related safety issues that have temporarily caused them to under earn in China. We believe the company is in process of fixing these issues."
Related Link: Why Dan Loeb Loves Yum! Brands And Devon Energy
Limitless Growth
He continued, "The KFC and Pizza Hut brands are the most recognized brands in China, and the business will recover and have a limitless growth in China tied to the emerging middle class.
"However, what the events of the last few years highlight is this very, very different – being an owner of franchise brands globally versus operating restaurants in China."
Engaging Constructively
"One's much more volatile – doesn't means one is good and one is bad.
"They are both great and what we hope we can do is we engage constructively with Yum's management to show how, by separating China Co. and entering to an agreement to franchise it back from Franchise Co., Yum can have itself positioned to learn from the recent past and really excel for decades to come," Meister concluded.

Image Credit: By Jwhalin (Own work) [Public domain], via Wikimedia Commons
View Comments and Join the Discussion!
Posted-In: CNBC Corvex Management Ira Sohn Conference Keith Meister KFC Pizza Hut Scott WapnerMedia