Warren Buffett's Tech Investment, IBM's Future And The Hybrid Cloud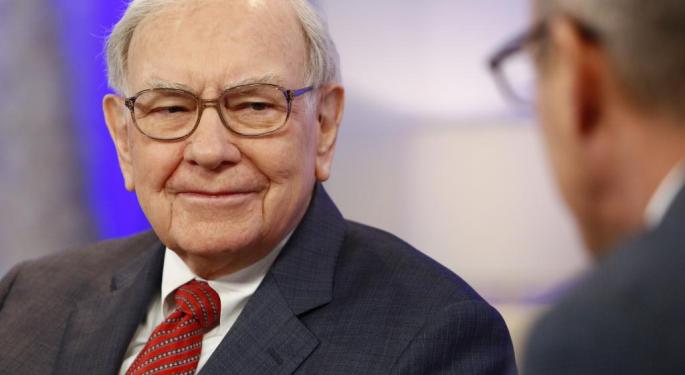 Of all the technology companies that can be invested in, the "Oracle of Omaha" and chairman of Berkshire Hathaway Inc. (NYSE: BRK-A)(NYSE: BRK-B) Warren Buffett chose International Business Machines Corp. (NYSE: IBM).
Buffett was on CNBC recently to explain why.
Making Estimates
"There's no question that I have far less technical knowledge about how IBM works than I do about how Wells Fargo or Coca-Cola works," Buffett said.
"But we do have 70 plus companies, and when we talk to them we learn something of their plans and we learn about competitive products and we make some estimates."
Related Link: I've Followed Warren Buffett For Decades And These 10 Quotes Are What I Keep Coming Back To
IBM Will Continue To Be Biggest Supplier
He continued, "We will take Wells Fargo. My guess is that Wells Fargo – IBM is their biggest supplier now – my guess is that IBM will be their biggest supplier five or 10 years from now.
"I think that there's a significant difference. Sometimes the location of the information actually has to be geographically specific, but there are certainly differences in the degree of security that people feel they need in terms of storing information on the cloud."
The Hybrid Cloud Future
"And as I talk to CEOs and I talk to our own managers, I feel pretty good about IBM's future – probably more so in what they call the hybrid cloud than the cloud that you generally read about," Buffett differentiated.
"IBM is a very [...] trusted organization; it's an innovative organization, and they are competing against a lot of the other people in the innovative too."
Related Link: Is Warren Buffett "Out Of Touch" On Coca-Cola?
Not A 'Winner Take All' Game
"It's not a 'winner take all' game. I mean – search, you might say, it comes very close to a winner takes all game. Cloud computing is not a winner take all game," Buffett concluded.
Posted-In: Coca-cola Warren Buffett Wells FargoCNBC Media Best of Benzinga
View Comments and Join the Discussion!