Crude Oil's Current Bullish And Bearish Cases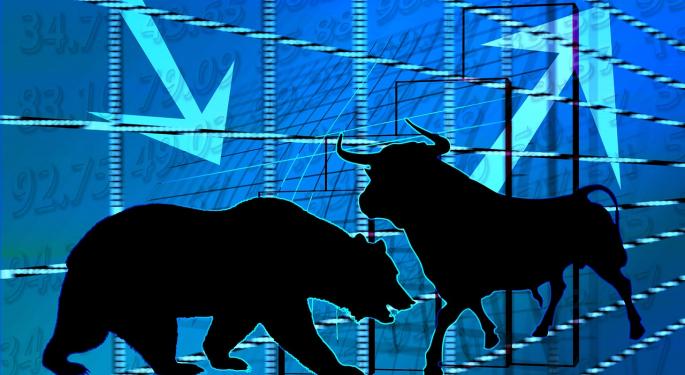 In the past few weeks, crude oil prices have moved substantially higher from the sub-$45 mark that it touched not too long ago. Now, at above $55, the Street is divided on whether it can move further up or if crude is approaching its ceiling.
Neal Dingmann, analyst at SunTrust Robinson Humphrey, and Dr. Kent Moors, Global Energy strategist, were on CNBC recently to talk about their respective bearish and bullish cases for oil.
The Horns
"I think we have a restrained upside, though, moving forward," Moors said. "The interesting thing is that this has always been a supply and demand situation. But for the first time in memory, we don't have to worry about the supply side."
Related Link: Crude Oil Futures Higher In Volatile Trading
He continued, "You know, there's plenty of additional supply to bring online. So, I am seeing a gradual increase to about $70 to $73 a barrel Brent, $60 to $65 for WTI by mid-July, but those are actually going to extend to the end of the year, and we could actually see prices in excess of $80 by Brent by the time we get to December."
The Claws
Dingmann was asked if this rebound in crude oil prices has run out of steam. He replied, "Yes, in the near-term."
He explained, "The number of wells out there that have been drilled, but not completed – today, it's about 8 to 10 times the normal. Generally, we have about 5 to 600 of these wells in the U.S.; today that number stands at about – some reports say it's as high as – 5,000.
"So, my thoughts are if oil hits $60, you are immediately going to have lots of these unconventional U.S. wells come on very quickly," Dingmann concluded on his bearish case.

Image Credit: Public Domain
Posted-In: Brent Crude Oil Global Energy Kent Moors Neal Dingmann SunTrust Robinson HumphreyCNBC Media Best of Benzinga
View Comments and Join the Discussion!