Native Ads A Saving Grace For The New York Times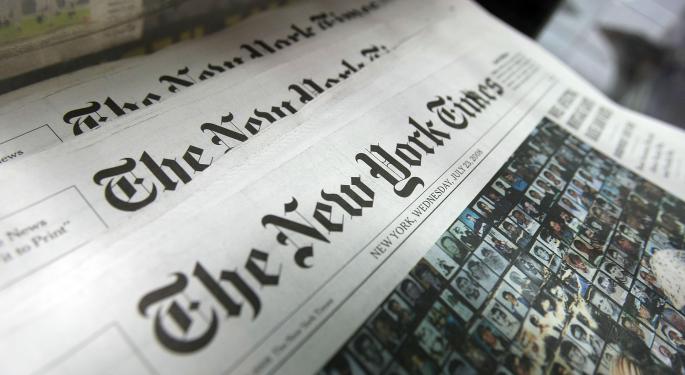 With several new online publishers coming into the game every day, sustainability is becoming increasingly difficult even for established players. Brands like the New York Times Co (NYSE: NYT), which made an early transition to the web, have experimented with different advertising models in the last few years, but striking the right balance is turning out to be really difficult.
New York Times CEO Mark Thompson was on CNBC to discuss the challenges in advertising the company is facing in the digital world.
Focus On Native Advertising
Thomson was asked how New York Times is addressing the concern that is not growing digital advertising fast enough. He replied, "We want to. The challenge in accelerating it is growing it at the same time that some platforms, digital platforms are themselves coming under pressure. Reduced consumption on desktop for example, great consumption on mobile and in particular on smartphone."
Related Link: 3 Ways Google Glass Could Change Journalism
"So, our challenge is to manage that transition. But to focus on things like native advertising -- we launched native advertising last year. That's a great new business for us and what's great is native advertising works essentially just as well on smartphones as it does on a desktop."
High Quality Native Advertising
On how New York Times investments in native advertising is panning out, Thomson said, "We have now run more than 40 campaigns in 2014. We haven't had a, I am not aware of a single example of a consumer being confused, we label them incredibly clearly.
"The biggest thing about native advertising is the quality of the native content has got to be very, very high and I think so far we have achieved that."
Posted-In: journalism Mark Thompson native advertising New York TimesCNBC Tech Media Best of Benzinga
View Comments and Join the Discussion!