JC Penney: A Dark Horse Among Retailers?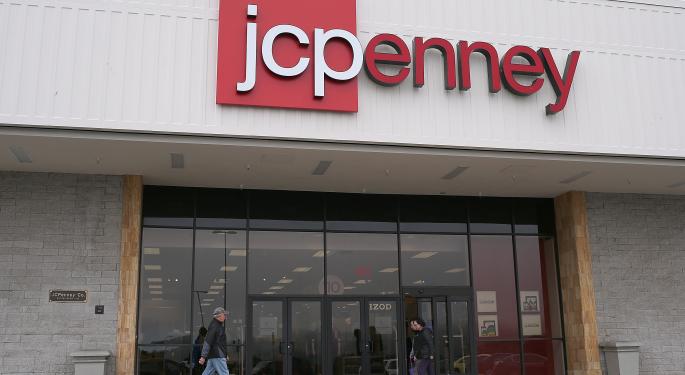 After seeing a gradual decline from $40 level since the start of 2012, the stock of J C Penney Company Inc (NYSE: JCP) has gone nowhere in the last year. However, according to JP Morgan's Matt Boss things are about to change soon.
Boss was on CNBC Thursday to pick the dark horse among the retailers, while Jan Kniffen of J Rogers Kniffen was also on the show to share his perspective on Boss's pick.
The Dark Horse Among Retailers
"I think your best-in-class compounders are Nike and Dollar General; that doesn't fit your dark horse though," Boss said. "I think your dark horse out there is JC Penney and I think that it fits this low-end profile, it has gas price correlation."
"I think if they put up a first quarter that's a little bit better than expected, you have the new CEO going on the road post-earnings in May and June. I think that one sets up pretty well. Thirty-five percent short interest still, a stock that's down and out, I think that's your dark horse."
Better 2015
Kniffen was asked his perspective on JC Penney and Boss's analysis on the company. He replied "I am agreeing with Matt on everything he is saying. I think that JC Penney is going to have a better 2015 than people expect and I think that it's driven by the fact that people think they are going to have tough comp compares going through the year."
"But in fact the things that they were doing is just starting to show up in the store to work for them and I think the low-end consumer with better gas prices is going to be right there with them. So, I do think they are going to have a better 2015 than people expect," Kniffen concluded.
Posted-In: CNBC Jan Kniffen JP Morgan Matt BossMedia Trading Ideas Best of Benzinga
View Comments and Join the Discussion!