Activist Investor Explains Why Converting Into A REIT Is The Right Thing For MGM To Do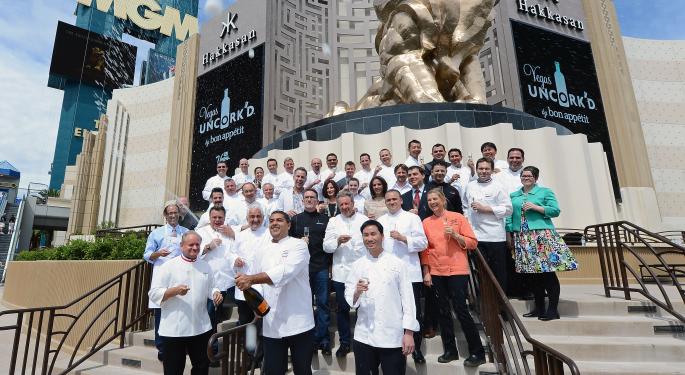 Shares of MGM Resorts International (NYSE: MGM) spiked on Tuesday's opening and continued to trade higher, closing the day up by over 10 percent.
The reason behind this sudden spike was perhaps spurred most strongly by news that activist investors are proposing to convert the company into a real estate investment trust (REIT).
Hedge fund Land and Buildings in its proposal to MGM's board has argued that the company is undervalued and converting it into a REIT could boost its value by as much as 70 percent.
Jonathan Litt, CIO and founder of Land and Buildings, was on CNBC recently to explain why his company is seeking to convert MGM into a REIT.
Taxes Not The Only Reason
"I think that there's a lot of things that are coming together right now that make it make a lot of sense," Litt said. "Being a taxpayer makes it even more urgent, because in '16, '17, '18 as their earnings grow, they are going to have more and more taxes that they need to pay."
Related Link: Morgan Stanley's "Realistic REIT Bull Case" For MGM
China Troubles
Litt was asked whether MGM's Chinese and other oversea assets, which cannot be included in a REIT, are factors in the deal.
He replied, "China is what has caused the opportunity. You may recall I was on Las Vegas Sands three years ago, we thought Macau was going to come back. It did, and now it's rolled over hard, and it has dragged MGM down with it. And we'd like to see MGM China being the smaller part of this company.
"Eighty-five percent of the EBITDA comes from the United States. Vegas is back for the first time since the financial crisis. So we think Vegas being back, China being weak is creating the opportunity. They have taxes coming up. They could pay down debt. Lots of things going forward that suggests that this is the time for them to be looking at doing a REIT," Litt concluded.
Posted-In: CNBC Jonathan Litt Land and Buildings Las Vegas SandsREIT Travel Media General Best of Benzinga
View Comments and Join the Discussion!