How Netflix And Amazon Are Changing Hollywood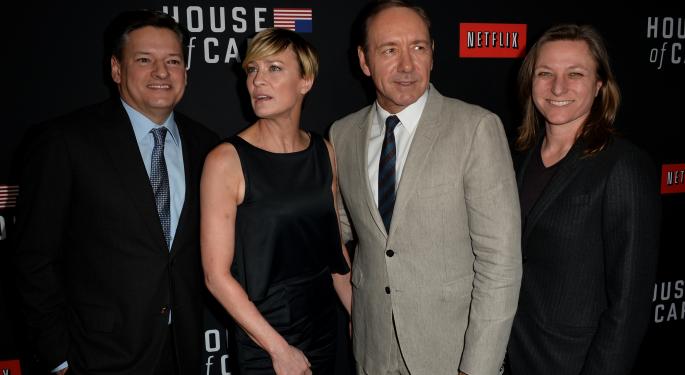 Netflix, Inc. (NASDAQ: NFLX) and Amazon.com, Inc. (NASDAQ: AMZN) have opened new avenues for movie and TV producers to deliver their content, and in doing so they are changing the way Hollywood functions.
Related Link: Pivotal Research Analyst Says Comcast-Netflix Deal Would Not Make Sense
Electus founder Ben Silverman was recently on Bloomberg to talk about the changes that these streaming services are bringing and their competition with old-school broadcasting.
What's Netflix' Deal?
"They arrived in town very aggressively and they up ended the model," Silverman said. "Netflix is doing 'straight-to' series, which is a huge differentiator from the other networks who typically just buy a pilot, test out the pilot and then go to series."
He continued, "So both 'Marco Polo' and our upcoming series 'Flaked' -- with Will Arnett and Mitch Hurwitz adapting and writing -- are shows that were green-lit straight to series and that's a huge benefit. I think that's why we attracted Will Arnett to be the star; it's also an idea of his of the show for Netflix and it's, I think, a reason that they have grabbed a lot of the top-tier talent in town."
Since You Are Now Producing For Netflix, How Has Your Relationship With Broadcasters Changed?
"Well, at this moment they [Hollywood producers] are all interdependent; Netflix and Amazon are the new back-end buyers of the network's product," he replied. "Meaning 'The Office' is on Netflix the same way that it aired originally on NBC; and so, there's a lot of partnership between these companies."
'Frenamies'
"I think the biggest one of those from an original content perspective was the huge deal Netflix made with Disney and then specifically the Marvel titles that they have green-lit to series, including 'Daredevil', and all of those companies are frenemies."
Silverman explained, "They are co-existing and working closely together on certain projects and they are competing tooth and nail on other projects."
Posted-In: Ben Silverman Bloomberg CNBC Electus Flaked Hollywood Marco PoloMedia Best of Benzinga
View Comments and Join the Discussion!