Warren Buffett Remarks On Moody's, Coca-Cola And The 'iWatch'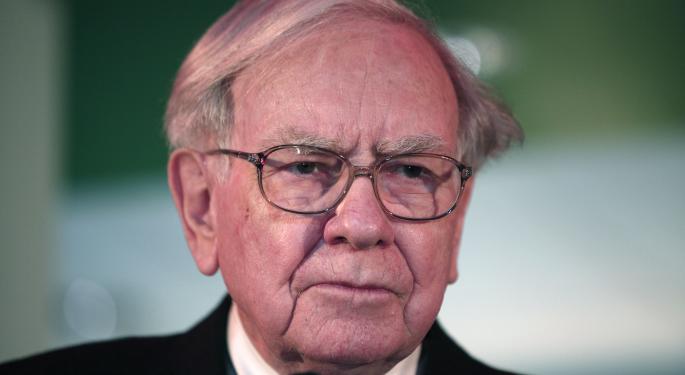 Chairman and CEO of Berkshire Hathaway Inc. (NYSE: BRK-B)(NYSE: BRK-A) Warren Buffett was recently interviewed by FBN's Liz Claman. In the interview, Buffett provided insight into his prominent holdings: The Coca-Cola Co (NYSE: KO) and Moody's Corporation (NYSE: MCO). He also discussed what's stopping him from buying the Apple Watch from Apple Inc. (NASDAQ: AAPL).
Related Link: Has Warren Buffett Lost His Touch? Not Even Close
Why Do You Still Hold Moody's?
"It's a fantastic business; so is S&P, incidentally. I mean, they are paying a big fine, but S&P is a wonderful business. It takes no capital; it has pricing flexibility. If I sell a bond issue, I'll sell one another month, probably, or something like that."
"I need a Moody's rating and I need a Standard and Poor's rating, and I can't negotiate with them."
When asked if he is planning to sell any of his Moody's stake, Buffett replied, "No, we haven't for a long time. We got about $2 billion worth."
Are You Worried That Coca-Cola Has Lost Its Way In Recent Years?
"1.9 billion 8 ounce servings of the Coca-Cola products are sold in the world today. It's gone up almost every year since 1886," he replied.
"I do not worry about Coca-Cola. I am 84 years old; in my adult lifetime, one quarter of all the calories that I have consumed have come from Cola."
Will You Buy An iWatch?
"Tim Cook sent me a Christmas card, and he said his goal in 2015 was to have me get rid of that flip phone I have. So, I have got a couple of stages to go through before I get to the iWatch," Buffett replied.
View Comments and Join the Discussion!
Posted-In: CNBC FBN Fox Business Liz Claman S&P Tim Cook Warren BuffettMedia Best of Benzinga