The Report Card: Satya Nadella Completes One Year As Microsoft's CEO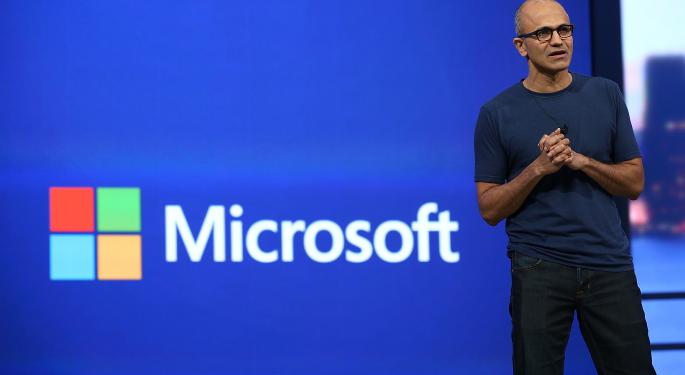 Exactly a year ago, tech giant Microsoft Corporation (NASDAQ: MSFT) appointed Satya Nadella to take the CEO reins of the company from Steve Ballmer. In the past year, Nadella has brought a lot of changes to Microsoft, including giving the company its new strategy of "mobile first, cloud first."
Although investors have inked their stamp of approval of Nadella by helping Microsoft's shares surge almost 15 percent higher since he took charge, Christina Warren, senior tech analyst at Mashable was on CNBC Wednesday to discuss how Nadella has performed as a CEO.
Related Link: Morgan Stanley Answers 'What Does Windows 10 Really Mean?'
How Has Satya Nadella Performed In His First Year As CEO?
"What's really interesting to me about Satya Nadella's first year is that the strategy that Microsoft is taking on hasn't been demonstrably different than what it was under Steve Ballmer," Warren said.
"But the execution has been a lot more nuanced and focused, and as a result, I think, the perception around the company has improved tremendously and that is the best thing about him taking the helm."
She continued, "So, it's not so much that they are doing things that are that different than what was in works before, it's just that he is executing better, he is saying the right things, and the market -- and frankly the public -- are responding much more positively."
What Are Your Expectations From Windows 10 OS?
"Expectations are going to be high for Windows 10," Warren replied.
"I mean, frankly, Windows 8, Windows 8.1, was a disaster for Microsoft on lots and lots of levels. With Windows 10, they are finally listening to their customers -- both at the consumer and the business side -- and they really have this good vision, I think, of trying to bring everything together under one roof," she explained.
"But expectations are going to be high, because if they are not able to deliver, this is powering so much of their future strategy, it'll be difficult for them to survive another Windows 8 debacle. Fortunately, everything we've seen from the OS so far looks really good."
Posted-In: christina warren CNBC CNBC Mashable Satya Nadella Steve Ballmer WindowsMedia Best of Benzinga
View Comments and Join the Discussion!