IDC Analyst: Combined China Sales Of Xbox One, PS4 'Unlikely' To Cross A Million Units This Year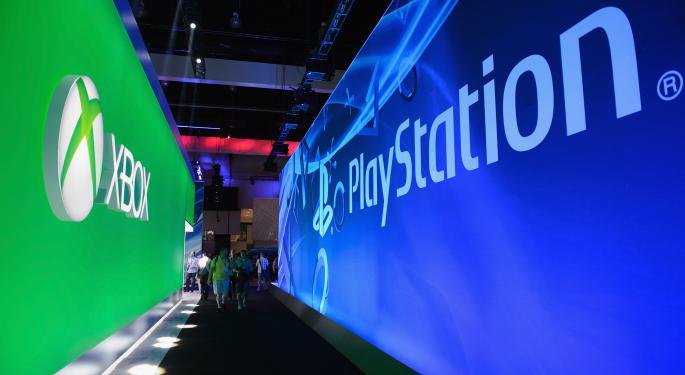 With Microsoft Corporation (NASDAQ: MSFT) taking the lead by launching its Xbox One in China, Sony Corp (ADR) (NYSE: SNE) is under the heat to launch the PlayStation 4 as soon as possible. However, the company is yet to come out with a confirm date on when it is going to launch the device in the country.
Lewis Ward, research director in the Consumer Markets group at IDC, was on CNBC to recently to talk about what's causing Sony to delay the launch of PS4 and share his projections on the number of devices it is going to sell.
Related link: Is Xbox One Really Beating PlayStation 4?
"It certainly could be issues related to the process of getting the technology approved by the government and get the games approved in particular out of Shanghai could be part of it," Ward said. "I asked them specifically about the online services, so, PlayStation Network [and] the ability to download games and they were a little bit vague with me in terms of whether those services were all ducks in a row also. So, honestly I don't have any particular insight into what the holdup is, but I am going to assume, take their word that it's the relationship between getting the proper approvals in China."
How Many Units Will PS4 Sell In China?
"Well, I expect that the launch will only be a few weeks. I'm going to assume that it's similar to what happened with Microsoft [which] was delayed a week last September. So, I am going to assume that it's a relatively minor issue and not something more severe, something that is really going to push this out," Ward said.
He continued, "My current projection is that it's unlikely to sell, both combined Xbox One and PS4, I doubt are going to sell much over a million units this year in China. There's ingrained PC gaming use, there's a lot of mobile gamers, so, smartphones and tablets and quite frankly the devices and games are really quite expensive and there's a large grey market."
Posted-In: CNBC IDC Lewis Ward PlayStation 4 PS4 Xbox OneTech Media Best of Benzinga
View Comments and Join the Discussion!