Can Apple Really Touch $150 Anytime Soon?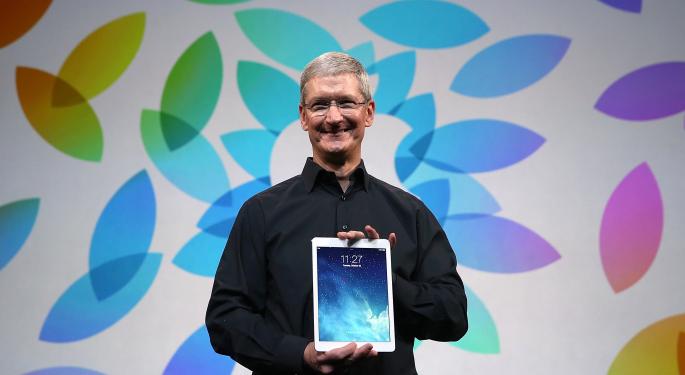 JMP Securities raised its price target on Apple Inc. (NASDAQ: AAPL) on Wednesday to $150. In the note, analysts at JMP reasoned that "lack of competitive momentum from Android rivals should translate into further gains this quarter."
CNBC's Jon Fortt and Jon Steinberg, CEO of Daily Mail (North America), recently discussed whether it's possible for Apple to touch $150 in the foreseeable future.
"Those are really high levels, if you go pre-split, so multiply this times seven, we are getting into $1000-plus territory and remember it tanked just after it hit $700 around $702 a couple of years back, but all that to say, I think you got to be really really optimistic to see iPhone momentum continuing from here," Fortt said.
"Yes, they expanded the weeks of inventory from 4 to 6, to 5 to 7. So that means it's going to appear to ship more over the next couple of quarters because of that, but then beyond that you really got to be counting on some amazing features in the 6s, in order for this momentum to continue."
Steinberg added to that, saying, "this is a contrarian call on the iPad, they [JMP Securities] show it basically flat in December from December a year ago and they show returning to growth 21,000 units instead of 16,000 units in what will be Apple's second quarter. So that's a unique call there. I was in an Apple Store in Stamford over the weekend and I said, 'do you have iPhone 6 in?' and he said 'we have some in different varying sizes'. So, still limited supply, selling very well."
Posted-In: JMP Securities John Fortt Jon SteinbergCNBC Tech Media Best of Benzinga
View Comments and Join the Discussion!