3 Takeover Targets In The Retail Sector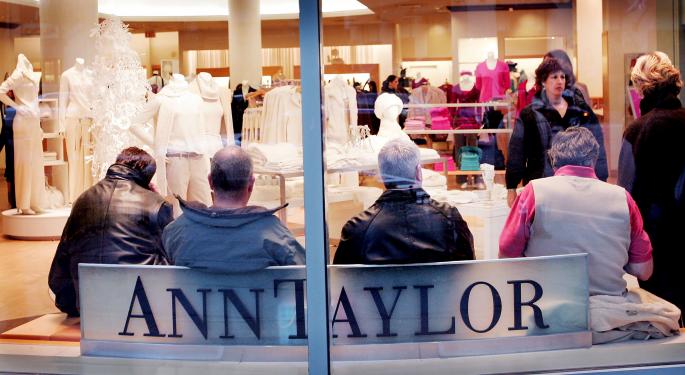 In the IntraLinks Deal Flow Indicator Q2 report, IntraLinks VP of strategy & product marketing, Matt Porzio said one of the sectors showing strong levels of early-state M&A activity was consumer, which includes retail.
According to Porzio, "Consumer deals … are expected to rise substantially. We have already seen a spate of high-value deals in 2014."
Given that impetus, here are three companies in the retail sector considered by many to be ripe for takeover.
ANN Inc. (NYSE: ANN)
Jim Cramer's The Street noted in August that two of ANN's major shareholders, Engine Capital and Red Adler, had urged the chain to put the company up for sale.
Related Link: Ann Up 5% As Shareholder Argues For Sale
The two shareholders said they believed potential buyers would pay a 40 percent premium for ANN, putting the selling price at between $50 and $55 per share.
Cramer said Friday, "Over and over again this year we've seen activist investors push all sorts of companies to create value for their shareholders, so I'm intrigued by this situation."
Richard Collings of The Deal said, "Ann Taylor is a perfect candidate for private equity because it's currently trading at seven times Ebitba, which is what private equity looks for in potential retail takeover targets. It has great cash flow; another great aspect. And it's a stable business and a recognizable brand name."
Guess?, Inc. (NYSE: GES)
Jefferies said its analysis indicated Guess was one of the three best LBO candidates among specialty retailers. The other two were Abercrombie & Fitch and Chico's.
Bloomberg said Guess currently trades for about 10 times free cash flow and has negligible debt.
Jefferies analyst Randal Konik said he estimated a private-equity acquirer of Guess could earn an internal rate of return approaching 21 percent assuming it paid a 30 percent premium, made an equity contribution of 25 percent and used the company's free cash flow to pay down debt from the transaction.
Express, Inc. (NYSE: EXPR)
A potential takeover of Express began earlier this year when Fortune reported that private-equity firm Sycamore Partners, which has a 9.9 percent interest in Express, said it was interested in acquiring the fashion retailer.
Express responded by saying its board would consider a buyout, but at the same time adopted a poison pill with a shareholder-rights plan designed to prevent investors from gaining sizable control of the company. The trigger was set at 10 percent.
At the time of this writing, Jim Probasco had no position in any mentioned securities.
View Comments and Join the Discussion!
Posted-In: abercrombie & fitch ann Ann Inc. Bloomberg Chico's CNBC Engine CapitalMedia Best of Benzinga