Exclusive: Tibco CEO Vivek Ranadive Talks Valuation; Takeout Rumor Swirling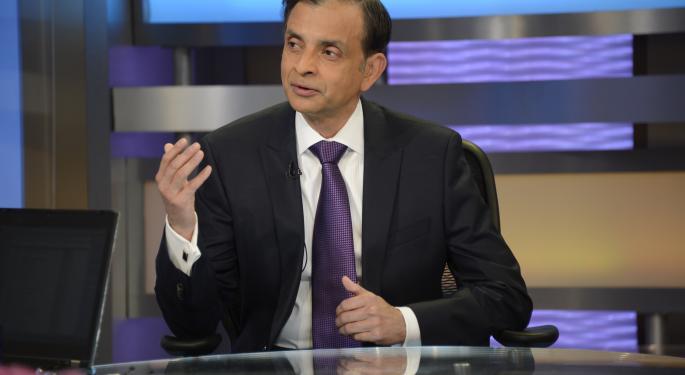 Tibco (NASDAQ: TIBX) trades at a discount to many of its direct competitors, despite being one of the few profitable players in the space.
In an exclusive interview with Benzinga, Tibco CEO Vivek Ranadive recently discussed how Tibco's value differs from what the market is currently assigning. In previous interviews, Ranadive has called shares at $20 the best buying opportunity since the stock was trading at $5.
Valuation
"I think that clearly there is a huge discrepancy in valuation," stated Ranadive. Ranadive specifically noted Tableau (NYSE: DATA), the biggest competitor to Tibco's primary growth engine, Spotfire. Tableau's price-to-sales and PE ratios are 11.7 and 2,084. Tibco, on the other hand, trades at just 3.1 times sales and 40.2 times earnings.
The CEO further emphasised that the discrepancy in valuation exists, although most competitors "have never made a profit and it appears unlikely that they will." Tableau reported 82 percent sales growth in the most recent quarter, but was unprofitable. Tibco's revenue increased 2.6 percent during the same quarter.
Related Link: Exclusive: Tibco CEO Ranadive Talks Business' 3 Top Priorities
Competitive Position
Wall Street is concerned that Tibco's competitors are not making money, according to Ranadive.
"If Wall Street stops funding them, then what happens to them? It's starting to become a sales advantage for us."
Ranadive said the only advantage Tableau has over Tibco is that its software is easier to consume, an advantage Tibco is attempting to eliminate by rebuilding its sales process.
He concluded by commenting on the company's success.
"Our focus has always been on growing and being profitable. Over the last 10 years our revenues have grown four fold, and our profits have grown 10 fold."
Buyout Rumor
Dow Jones reported Wednesday that Tibco has reached out to both strategic and financial buyers.
Herb Greenberg speculated on CNBC that Hewlett-Packard and IBM are potential acquirers.
Dow Jones reporting that $TIBX, the ONE green flag on Reality Check, has reached out to potential suitors. Makes sense!

— Herb Greenberg (@herbgreenberg) August 6, 2014
Benzinga is waiting to hear back from the company for comment.
Shares of Tibco were last trading 10.10 percent higher at $21.25 on the news.
Posted-In: CNBC Herb Greenberg Spotfire Vivek RanadiveTop Stories Media Interview Best of Benzinga
View Comments and Join the Discussion!