Jim Cramer Names Some Of His Retail Picks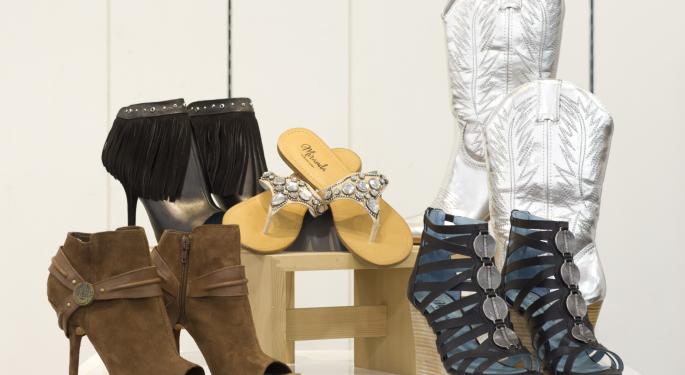 CNBC's Jim Cramer noted this week that it's difficult to find genuine value stocks in a market that's nearing all-time highs. He then dove into the retailers that would shine in leveraged buyouts in a sector that has a number of "awful" performers.
He asked Mad Money viewers to look through the lens of a long-term investor by viewing stocks like private equity firms would to see the value.
Cramer highlighted firms like Blackstone (NYSE: BX), whose long-term approach has led to another terrific quarter, and Sycamore Partners, the "buyout machine" that took on retailers like Hot Topic and Talbots, and plan to take Express (NYSE: EXPR) private while it works on establishing new relevance within the space.
Related Link: 3 Companies Leading The Way For Healthy Workplaces
"They did the same thing with Jones Group in December," he said, "and they'll take that same shrink-to-grow strategy to their new acquisitions in a play to cleanup key retailers internally before the holiday season."
Cramer continued, "Or how about what Sycamore is doing with Express, another knocked-around retail stock that dropped from $25 in December to below $13 over the following six months. Sycamore swooped in a month back, taking 9.9 percent stake, and telling the board it's interested acquiring the whole company. Stock shot up nearly 20 percent on the news and a deal now appears imminent.
"Again, while Express may appear to be little more than a loser, when you look at it through LBO-colored (leveraged buyout) lenses, what you see is a company with enormously depressed margins that can be turned around to become much more profitable."
Cramer said there are things simply easier to do as a privately-held company, "like shutting down underperforming stores, weaning customers off of excessive promotions, both of which involve taking that short-term hit for longer-term gains that the market tends not to approve of, but if it's private, you can't even tell.
"I believe Sycamore can pull off a turnaround here, but given that Express has already rebounded in a major way since we learned that someone with deep pockets was interested in taking it private, I wouldn't be a buyer of the stock at these levels because I think their upside is pretty much capped."
Nonetheless, Cramer pointed out a wealth of conclusions that can be gained from the process. The first of which is that retailers with well-known brands and underperforming stocks are LBO bait. This means that there's room to find stocks to invest in now that will be ripe for acquisition later.
Chico's (NYSE: CHS) is one, which is rumored to be going private while making headway in overseas markets with aggressive international growth despite the company's "hideous earnings."
DSW (NYSE: DSW) is another stock on Cramer's list of retailers to watch. DSW took hits after a harsh winter and are currently one of the worst performers in the market and may be suffering a market bottom after a peak in women's footwear three years ago. Cramer did note DSW will probably turn around with or without a LBO, but are a very attractive target for a private equity firm.
"These leverage buyout artists are always searching for companies with underperforming stocks," stated Cramer, "that could easily be turned around only if they had the chance to step out from under the spotlight of the public markets, with its intense focus on beating short-term quarterly expectations, and instead focus on healing their wounds and recovering in a more methodical; longer-term manner.
"In other words, the private equity guys don't invest like sprinters. They invest their money like marathon runners. They are searching for companies they can stick with through the whole 42,195 meters of the race. And right now I think retail offers some tremendous opportunities for these private equity firms."
Jason Cunningham had no position with the mentioned entities, with the exception of Benzinga, while writing this article. Visit Jason on Twitter at @JasonCunningham and @Benzinga.
Posted-In: Hot Topic Jones Group Mad Money Sycamore PartnersCNBC Jim Cramer Retail Sales Media Best of Benzinga
View Comments and Join the Discussion!