Hewlett-Packard Launches $100 Quad-Core Android Tablet In U.S.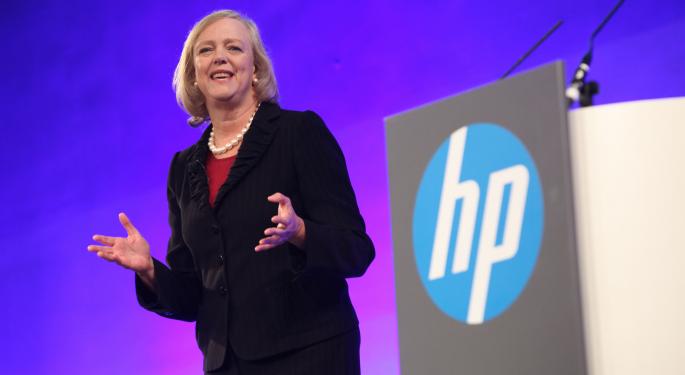 Breaking the $100 barrier for a quad-core Android tablet – by a penny – might be a big deal.
Hewlett-Packard (NYSE: HPQ) certainly hoped so when it premiered its $99.99 HP 7 Plus in Europe a few months ago. Now the company has decided to try to shake things up in the U.S. with the domestic launch of the HP 7 Plus in this country.
Allwinner Technology provided the 1GHz A31 quad-core processor with the chip based on ARM Cortex A7 architecture. CNET noted that the HP 7 doesn't have the "fastest mobile processor on the planet." On the other hand, it's quad core and it's only $100. Make that $99.99.
Related: Should IBM Or Hewlett-Packard Acquire Rackspace?
The HP 7 utilizes the Android 4.2.2 Jelly Bean operating system, has 1GB of SDRAM, 8GB of storage, 802.11b/g/n Wi-Fi and features more than five hours of battery life. The device also has a microSD slot and a 1,024 x 600 display.
For those looking for something a little more upscale, there's the quad-core Nvidia Tegra 3 powered Slate 7 for $150.
The Bitbag reported that in addition to an attractive price and other features, HP decided to throw in free 25GB lifetime cloud storage with service box and Kingsoft Office software. The device is Google-certified and includes access to the Google Play Store.
Bitbag wonders whether others like Samsung and LG would follow in HP's footsteps with its own low-end but high-powered tablets.
HP's new quad-core tablet is available at the company's online store where customers can also add accessories like a case, stylus or other items.
HP has made something of a name for itself, releasing inexpensive tablets like the HP 8 in March. That 7.85-inch device launched at $169.99 and included an Allwinner quad-core processor, 1024x768 resolution, a 2-megapixel rear-facing camera, and many other features including the free 25GB cloud storage offered with the new HP 7.
In a "mixed-bag" earnings report Thursday, Hewlett-Packard reported earnings that met estimates with revenue slightly below expectations. The company also said it planned to cut 11,000 to 16,000 more jobs. Overall, total job cuts could range as high as 50,000.
On the earnings call CEO Meg Whitman said the company's "turnaround remains on track."
Whitman added, "We're gradually shaping H-P into a more nimble, lower-cost, more customer- and partner-centric company that can successfully compete across a rapidly changing IT landscape."
HP shares are up over 5.5 percent at $33.53 in Friday's trading.
At the time of this writing, Jim Probasco had no position in any mentioned securities.
Posted-In: Android Google hewlett-packard LG Meg WhitmanCNBC Wall Street Journal Media Best of Benzinga
View Comments and Join the Discussion!