Icahn And Ackman Kiss And Make Up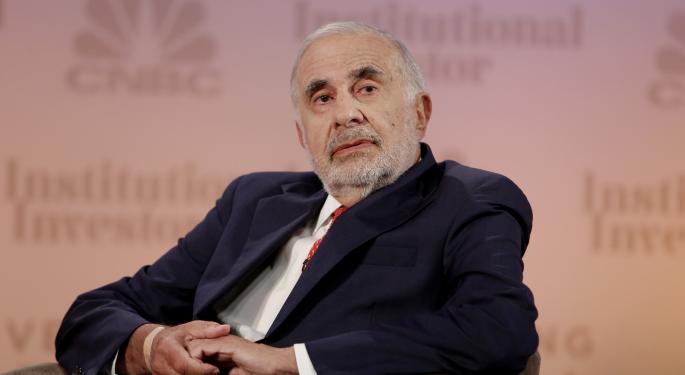 Who would have guessed all it would take was a phone call? Following a 30-minute phone conversation last week, one of Wall Street's longest running feuds between activist investors Carl Icahn and William Ackman ended according to The Wall Street Journal.
Ackman told Icahn's assistant on April 24, "I am calling to forgive Carl." Icahn returned Thursday's call from Ackman, telling him, "it is a blessing to forgive," then added, "I forgive you."
All that forgiveness was a far cry from the last year's "insult fest" on national television when Icahn called Ackman a "crybaby in the schoolyard" and Ackman said Icahn was "not an honest man."
Related: Ackman's Pershing Will Preview Documentary on Herbalife on May 2nd
Another thing the patch-up suggested was the possibility the two titans, who were polar opposites on Herbalife (NYSE: HLF), with Ackman calling the company "an illegal pyramid scheme" with a large short position and Icahn take a huge "bull" stance, might actually team up on future investments.
Not on Herbalife, it seemed, where the two "agreed to disagree" according to The Wall Street Journal, but perhaps on other companies.
The hint of such a partnership came from Ackman who said, "There is a much greater possibility that we are on the same side than the opposite."
Icahn apparently initiated the truce in a CNBC interview in which he defended Ackman, saying he didn't see "anything illegal" about Ackman's Pershing Square Capital Management LP teaming up with a pharma company to buy Allergan (NYSE: AGN)
"We have our differences," Icahn said, "but I never said he's not a smart guy. I think the concept of this is good. I hope it works out better for him than Herbalife did, and, I think, will. ...I never thought I'd be here defending Ackman."
Related: Carl Icahn And eBay Call Off The Fight And Declare A Draw
Ironically, CNBC was the tapestry on which the battle royale between the two titans was waged on January 25, 2013. Icahn was patched in to an interview featuring Ackman and said, "I've really sort of had it with this guy Ackman."
With that, they were off.
The two said they spoke for about 30 minutes Thursday, concluding they agreed on some issues.
Icahn said, "Ackman and I both strongly believe in the need for corporate governance. So what is the point in fighting?"
According to Icahn, he told Ackman, "The enemy of my enemy is my friend." With this, Ackman told Icahn that he respected him.
Speculation about potential investments in which the two could team up remained just that – speculation. Neither Icahn nor Ackman would comment on possible partnerships.
ZeroHedge.com wondered if Icahn might want in on Ackman's pharma deal – the one on which Icahn defended his former enemy.
At the time of this writing, Jim Probasco had no position in any mentioned securities.
Posted-In: Allergan Carl Icahn CNBC Herbalife Pershing SquareNews Events Media Best of Benzinga
View Comments and Join the Discussion!