Whole Foods' CEO Shrugs At Wal-Mart's Wild Oats Deal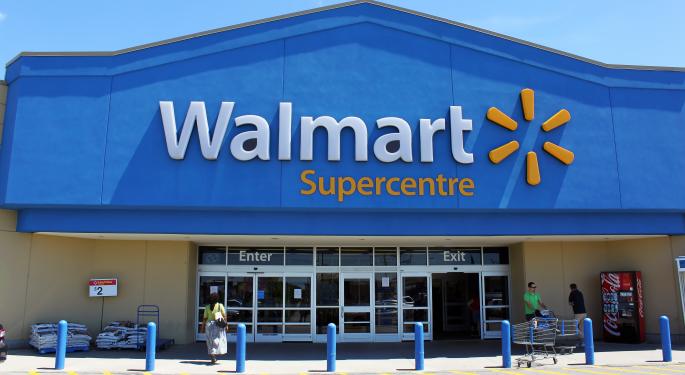 On Thursday, Wal-Mart Stores (NYSE: WMT) announced the re-launch of Wild Oats organic food items to be available in stores this month.
The company said with "a new, more affordable price point on quality products covering a broad variety of categories – from salsa and pasta sauce to quinoa and chicken broth. Customers will save 25 percent or more when comparing Wild Oats to national brand organic products."
Wal-Mart's Organic Price Position
Jack Sinclair, executive vice president of grocery at Wal-Mart U.S. commented, "We know our customers are interested in purchasing organic products and, traditionally, those customers have had to pay more. We are changing that and creating a new price position for organic groceries that increases access. This is part of our ongoing effort to use our scale to deliver quality, affordable groceries to our customers."
Organic Statistics
According to Walmart's internal research, 91 percent of Wal-Mart shoppers would consider purchasing products from an "affordable organic brand at the retailer." The Organic Trade Association (OTA) reported that the consumer-driven U.S. organic market grew 9.5 percent to $31 billion in 2011. The OTA's press release stated that this sector continues to support "steady and healthy" growth. 2012 survey results indicate that future prospects will "will continue to sustain growth levels of nine percent or higher."
Related: When It Comes To Drug Stocks, Do Not Always Buy The News
Whole Food's Walter Robb on Wal-Mart and the Organic Sector
In a CNBC interview, Whole Foods Market's (NASDAQ: WFM) co-CEO Walter Robb commented on the impact of Wal-Mart's stride into the organic space. Robb said, "Wal-Mart's been in the organic space for some time so, that being said, they are an excellent competitor. And I will say historically that of all the competitors in the market their customers overlap the least with ours. In the end I think its an affirmation that this organic food marketplace continues to grow."
In a $750 billion supermarket industry, Robb forecasts that the organic market space will reach $255 billion by 2018. He noted tremendous growth and opportunity in this sector.
Amidst pricing concerns of organic items, Robb commented that Whole Foods' 365 organic brand pricing is competitive as they strive to make items "affordable and available to customer and the growth of that line suggests that we are doing it fairly successfully."
Stock Action
Shares of Wal-Mart closed at $77.97 on Wednesday. The stock flirted above Wednesday's close, hitting $78.13 before its downward fall on a bearish day. Shares are currently trading at $77.05, down 1.194 percent.
Posted-In: CNBC Jack SinclairCNBC News Contracts Management Events Media Best of Benzinga
View Comments and Join the Discussion!