King Digital CEO Confident In Future Following Rough IPO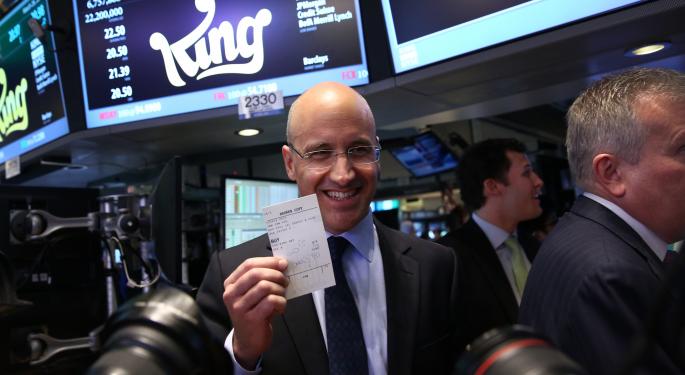 King Digital Entertainment (NYSE: KING) CEO Riccardo Zacconi isn't crushed about anything. Maybe it's because he's sweet on mobile and social media.
"We developed a model which is pretty unique in industry to launch — to find, first of all, to create games which are successful," Zacconi said on CNBC's Squawk on the Street program, the day of Digital King's IPO.
"And the model is very simple," he continued, "so people say that the games business is a hit-driven business. This is 100 percent true. It is a hit-driven business. The only way to find a hit is to launch many games. And this is what we do on the web. We launch many, many games; we've been doing this now for more than 11 years and we've launched a portfolio of 180 games."
Related: 'Candy Crush' Maker King Digital Entertainment Gets Crushed: IPO Review For March 26
Zacconi explained their model is unique, in that they take their successful games and transfer them to mobile and social networks -- a process which they've replicated several times. These are spaces where their games can be easily accessed and are more profitable.
He cited Bubble Witch as the largest game on Facebook (NASDAQ: FB) for PC users, with a total of three Digital King titles ranked in Facebook's top ten games. Farm Heroes, meanwhile, became one of the top ten grossing games for Google's (NASDAQ: GOOG) Android in 11 days, and in less than six weeks for Apple (NASDAQ: AAPL) iOS.
Zacconi said they're a very product-focused company, with most employees being developers; and their number of employees doubled as of last year. He called good employees the "biggest anchor for our growth."
"We think if the game is good, than the marketing is easy," said Zacconi.
King Digital has been down in trading since Wednesday's opening, with many media pundits and analysts alike calling the stock "sour."
"Today is the start of a marathon," said Zacconi regarding the King Digital IPO. "And I think the opportunity is great. If you believe in mobile, I don't think they're many ways to play mobile. So, games is a number one application, or sector in mobile…time spent with games is more than 70 percent on tablets; 40 percent on smartphones."
With confidence in the future as King Digital continues to churn out games, Zacconi isn't letting a bit of bad news leave a bad taste in his mouth.
Jason Cunningham had no position with the mentioned entities while writing this article.
Posted-In: Bubble WitchNews Futures IPOs Hot Markets Tech Media Best of Benzinga
View Comments and Join the Discussion!