Carl Icahn Isn't Happy About eBay's Board Member Rejections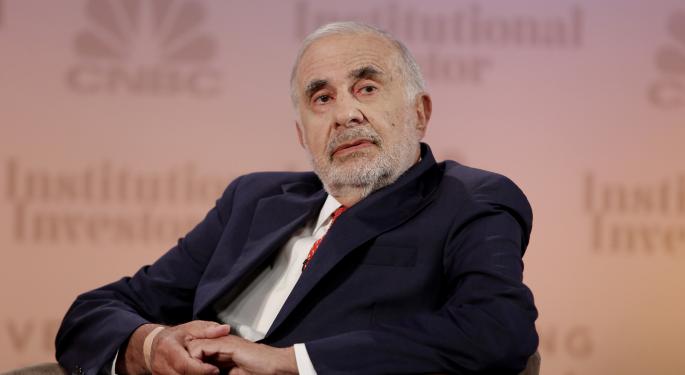 Activist investor Carl Icahn had hoped to bring change to eBay (NASDAQ: EBAY) when he nominated two of his own employees to the Board.
eBay rejected that nomination and released a statement from independent director and Corporate Governance and Nominating Committee Chairman Richard T. Schlosberg, III:
"The Corporate Governance and Nominating Committee gave serious consideration to the two employees of Carl Icahn that he nominated to the Board," said Schlosberg. "After careful review, the Board concluded that they are not qualified candidates based on the criteria that have consistently been applied by the Committee, including in particular that neither nominee has relevant experience or expertise. In addition, neither nominee would comply with the Board's governance guidelines on overboarding – each is on four public company boards and Mr. Ninavaggi is co-CEO of Federal Mogul."
Icahn responded to the rejection during an interview with CNBC.
"What qualifies you to be a crony of Donahoe and allow him to take $4 billion?" Icahn questioned, referring to eBay's acquisition and subsequent sale of Skype. "This company is the quintessential example of what's wrong with governance of corporate America. I mean, if you say we're not qualified, you look at all the companies that we've helped a great deal."
Related: A Look Into Some Of Carl Icahn's Top Stock Picks
Icahn told CNBC that he could have brought discipline to the Board.
"And that's what these guys don't want," he added. "…These guys very simply don't want us on the Board because they know we'll bring discipline, we'll be somewhat of a watchdog."
Icahn also said that this is not a fraternity house where everyone is collegiate.
"You don't need collegiality," he said.
Attacking eBay's Defense
In addition to the announcement that it has rejected Icahn's Board nominees, eBay fought back against Icahn's claim that Donahoe's "inexcusable incompetence cost eBay stockholders over $4 billion."
eBay said that Donahoe helped increase the stock by more than 460 percent since he became CEO in 2008.
"First of all, I'd like to study those returns because I don't really buy them," Icahn told CNBC. "But he's done way, way worse than his peer group. And that's how you measure a CEO. I mean, if you discover gold in the mountain, you don't say, 'Well, you're a genius gold miner.' You just don't do that. [Donahoe] has not delivered astounding results. He has delivered what I think are very mediocre results against Amazon, against Visa, against MasterCard -- against any of the peers. He's in a great business with PayPal, [which] helped him. But eBay itself has not done that well."
When asked what would happen if the Donahoe number proved to be true, Icahn replied, "Even if he did those results, that doesn't mean that… In fact, he should welcome a couple guys on the Board that have proven track records."
"We have done a great job on other boards," Icahn added. "…We don't go in and make enemies and disturb [the Board]. So what is the reason? What's wrong with having us on though? The thing that board needs (even if they did 1,000 percent) is discipline. It's time for large shareholders to stand up and say, 'You know what? You should have shareholder representation on these boards and look at Icahn's record and why don't you put him on?'"
Disclosure: At the time of this writing, Louis Bedigian had no position in the equities mentioned in this report.
Posted-In: Carl Icahn CNBC CNBC EBAY John DonahoeNews Tech Media Best of Benzinga
View Comments and Join the Discussion!