#PreMarket Primer: Wednesday, January 15: Big Earnings Day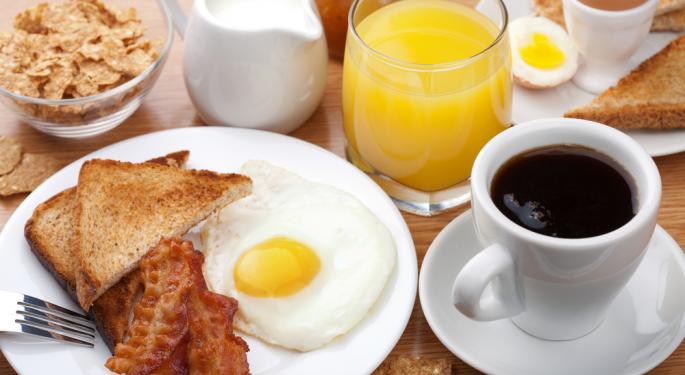 Better than expected retail sales and a possible buy-on-the-dip mentality propelled the markets higher despite a luke-warm start to earnings season Tuesday.
The Dow ended up three-quarters of a percent to close at 16,376.86. The S&P gained more than one percent to finish at 1,838.88, and the NASDAQ saw the largest gains of the day, 0.7 percent, to close at 4,183.88.
U.S. markets are showing modest strength in premarket trading Wednesday morning. The Dow is up about 19 points while the S&P is up about two. The NASDAQ is up 10 points in early trading.
Apple (NASDAQ: AAPL) CEO Tim Cook calls Apple's deal with China Mobile a "watershed" moment. He also said in a CNBC interview that Apple sold more iPhones in China last year than ever in its history.
General Motors (NYSE: GM) announces that it will pay its first quarterly dividend in six years. Shares rose more than three percent on the news.
Tesla (NASDAQ: TSLA) gained 12 percent yesterday after disclosing fourth-quarter sales figures 20 percent higher than analyst forecasts.
The World Bank says that the global economy is at a "turning point."
Asian Markets
Improving global demand forecasts propelled Asian markets mostly higher Wednesday. The Nikkei gained 2.5 percent to close at 15,808.73.
The Shanghai composite was about 0.2 percent to close at 2,023.35 and the Hang Seng, up about 0.5 percent to close at 22,902.00
European Markets
European markets reached 5-1/2 year highs despite lower than expected German GDP. The FTSE and the CAC are each up about 0.3 percent while The DAX is up about 0.8 percent.
Commodities are mostly lower this morning. WTI is flat at $92.68 while Brent is down 0.2 percent at $106.15. Natural Gas is down about 0.3 percent at $4.356.
Gold is down about 0.6 percent at $1,237.40 and Silver is down one percent at $20.07. Copper is down 0.6 percent at $3.31
The yen and Australian dollar fell sharply early Wednesday.  The euro is lower against the dollar at 1.3628 while the pound is down fractionally against the U.S. currency. The dollar is currently about 0.1 percent higher against the yen after a one percent move bringing it to 104.29 against the Japanese currency. The Aussie dollar is 0.7 percent lower against dollar 0.89.
General Motors (NYSE: GM) is up three percent on the news it will pay a dividend.
Bank of America (NYSE: BAC) is up 0.6 percent as the market awaits its earnings announcement.
Nike (NYSE: NKE) is down 0.8 percent in low-volume trading.
JP Morgan (NYSE: JPM) reported EPS of $1.40 versus estimates of $1.24 on revenue of $24.1 billion versus the $23.81 billion estimate.
Wells Fargo (NYSE: WFC) reported EPS of $1.00 versus estimates of $0.98 on revenue of $20.67 billion versus the $20.63 billion estimate.
Notable earnings today include:
At 8:30 a.m. ET the Producer price index is released along with the Empire State manufacturing survey. At 2:00 p.m. the Beige Book is released. Fed governor Charles Evans speaks at 12:50 p.m. and Dennis Lockhart speaks at 5:20 p.m.
View Comments and Join the Discussion!
Posted-In: Earnings News Eurozone Futures Commodities Forex Global Economics Best of Benzinga