Whole Foods Aims For 1,200 Stores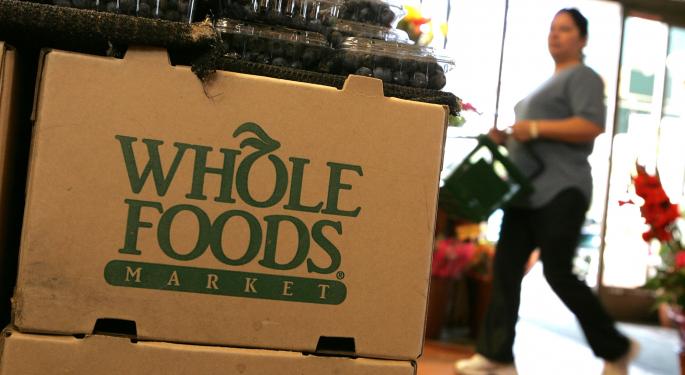 Whole Foods (NASDAQ: WFM) co-CEOs John Mackey and Walter Robb appeared on CNBC's Squawk on the Street with host Jim Cramer to discuss the company's future growth from their new store in Brooklyn, which is the first in that area.
Currently at 370 stores, Whole Foods is targeting around 1,200 stores in the U.S. alone.
"The market continues to grow, and I think we're thinking internally that we can do maybe 1,200 stores in the United States at this point," said Mackey to paint a bigger picture of their future moves.
Cramer also mentioned the Whole Foods locations in Detroit and Idaho. For Whole Foods, launching in these two "untraditional" locations has recently brought on some big media attention.
"I think the big theme here is just growth," said Robb regarding their expansion plans.
"I think Whole Foods, we had previously said 300 stores. We've got 1,000 stores up on the board to be able to grow into. I think the opportunity for the company to grow is unlimited."
Mackey included that they have 94 stores currently in-development.
Related: Warner And DC Comics' Six Dynamite Moves Leading Up To 'Batman Vs. Superman'
As for the new location in the nation's hip capital…
"Brooklyn—one of the great markets in the United States," said Mackey, noting that it's their eighth store in New York City, with the previous seven being successful.
"We think this one will be too."
Robb highlighted that the new site was 10 years in the making, including "18 months building it out."
Jason Cunningham had no position with the mentioned entities while writing this article. Visit Jason on Twitter at @JasonCunningham and @Benzinga.
Posted-In: Brooklyn CNBC CNBC's Squawk on the Street Jim CramerNews Management Markets Media Best of Benzinga
View Comments and Join the Discussion!