Alan Mulally Says He's Committed To Ford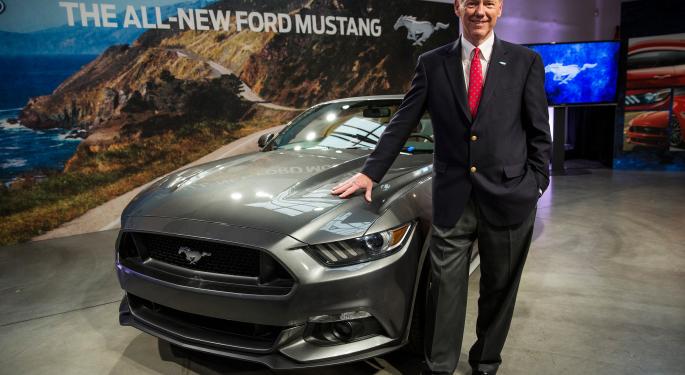 CEO Alan Mulally is sticking with Ford (NYSE: F).
Mulally appeared on CNBC's Squawk on the Street with a car that looks like a grey lightning bolt matched with the body of a sleek raindrop, and it's a convertible to boot.
Mulally bubbled enthusiastically while mentioning Ford's "50 years of continuous improvement of production on Mustang" before pushing that for the first time ever the car would be available globally. Then he was pressed hard with questions regarding the rumors surrounding offers for Microsoft's (NASDAQ: MSFT) CEO position.
While the 2015 Ford Mustang still sports its signature horse as its mascot, the car's 50th anniversary model looks like a sexy evolution of Adam West's Batmobile (the souped-up 1955 Lincoln Futura), and Mulally dodged all questions regarding a move to Microsoft if the offer exists like the Caped Crusader.
"I am honored to serve Ford and we have no change in my plan," Mulally said firmly, following up by a policy refresher of not commenting on speculation.
Related: Taper Tantrums Continue To Dominate Market Action
He then went on a marketing roll that gave Ford and the team's performance high praise, from management to ability to deliver a topnotch product, before diving into a gushing description of the new 2015 Mustang's bravado, saying "look at the stance that it has and look at the message it delivers."
The four-seater offers a choice of three different power systems, including a V8, V6, and in-line 4-cylinder EcoBoost engine, and Mulally is confident that it can tackle the sports car segment. He made sure to mention that November marked Ford's strongest sales since 2004, and he he predicted expansion for 2014.
Jason Cunningham had no position with the mentioned entities while writing this article. Visit Jason on Twitter at @JasonCunningham and @Benzinga.
Posted-In: Alan Mulally CNBC CNBC's Squawk on the Street MustangCNBC Movers Media Best of Benzinga
View Comments and Join the Discussion!