Market Wrap For November 12: Investors Continue to Speculate on the Fed's Tapering Measures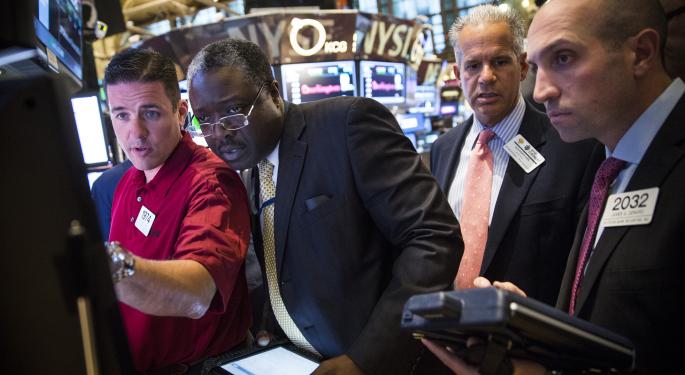 U.S. stocks traded lower throughout the large majority of Tuesday's trading session, as investors continue to speculate on the timeline for the Fed's tapering measures.
With the earnings season beginning to wind down and data on the economic front relatively sparse so far this week, traders' decisions have been limited to deliberating on the likelihood of Fed action over the remainder of 2013.
The Dow Jones declined 0.21 percent, closing at 15,750.67. The NASDAQ finished the day virtually unchanged, closing at 3,919.92 -- and the S&P 500 declined 0.24 percent, closing at 1,767.69.
Gold lost 1.12 percent to trade at $1,226.80 an ounce. Silver shed 2.71 percent to trade at $20.70 an ounce. Crude oil declined 2.14 percent, to trade at $93.10 a barrel.
News Of Note
The National Federation of Independent Business's small-business optimism dropped to 91.6 in October from 93.9 in September, in the lowest reading since April.
Redbook Chain Store sales rose 3.3 percent year over year versus 3.8 percent last week.
The Chicago Mercantile Exchange (NASDAQ: CME) will be implementing its first significant fee change since 2009, affecting both members and non-members. Changes will be made next year.
U.S. Treasury Secretary Jacob Lew, speaking on Japanese television, stated the core strength in the U.S. economy is continuing and ending the year with "great optimism."
In a Wall Street Journal opinion column Andrew Huszar, largely considered to be the "father of QE," called the asset purchases "the greatest backdoor Wall Street bailout of all time."
The Federal Reserve released the results of a bank stress test under a "market shock" scenario, in which US stocks decline 29 percent and the Euro Stoxx index down 27 percent.
The Fed's Dennis Lockhart believes tapering could take place next month, as QE isn't meant to be a permanent fixture of monetary policy. Lockhart, president of the Federal Reserve Bank of Atlanta, believes a change of the Fed leader won't have a material impact on policy.
Meanwhile Narayana Kocherlakota, president of the Federal Reserve Bank of Minneapolis, believes tapering would drag on an already slow economy. He reiterated the Fed should lower the unemployment threshold to 5.5 percent and must do "whatever it takes."
In a report made public Tuesday, the International Energy Agency said expanding production of unconventional oil outside OPEC nations will reduce the importance of Middle East production over the next decade. The region will, however, reclaim its advantage after 2020 as "the only large source of low-cost oil." Oil prices are expected to climb steadily to $128 a barrel in 2012 terms by 2035.
Chinese leaders are set to unveil a ten year reform plan, in which liberalization of the economy is expected to be a key component.
Equities-Specific News of Note
During an interview with The New York Times' Deal Book, Dan Loeb revealed his hedge fund has taken a stake in FedEx. (NYSE: FDX) There were no mention of how large a position, however, and what price. Pre-market, FedEx was downgraded by analysts at Cowen to Market Perform from Outperform. The analysts have a $136 price target on the firm. Shares closed the day up 1.59 percent ,at $134.63.
AMR (OTC: AAMRQ), parent company of American Airlines and U.S. Airways (NYSE: LCC), have settled with the Department of Justice over the antitrust lawsuit filed by the government. The two companies are set to merge and will create one of the world's largest airlines. Shares of AMR closed Tuesday up 26.05 percent at $12,  while U.S. Airways closed up 1.07 percent at $23.52.
Shares of Tesla Motors (NASDAQ: TSLA) closed lower by 4.77 percent percent at $137.80. CNBC reported there are no discussions of a voluntary recall of the Model S following several instances of fire.
In its prospectus for a 72 million share offering, T-Mobile USA (NYSE: TMUS) is "considering an acquisition of spectrum from a private party." Shares closed lower by 3.26 percent at $26.09.
Stratasys (NASDAQ: SSYS) has obtained a 5-year, $250 million revolving credit facility from Bank of America. (NYSE: BAC) The 3D printer vendor has an option to increase the amount to $75 million. Shares closed the day lower by 2.24 percent settling at $124.27.
Liberty Global (NASDAQ: LBTYA) is reported to be interested in acquiring Intel's (NASDAQ: INTC) online TV service. Shares of Liberty Global closed lower by 1.13 percent at $78.58, with Intel gaining 1.08 percent at $24.43
Related: Intel Could Expand TV Service With Liberty Global
Men's Wearhouse (NYSE: MW) shares gained 2.44 percent to close at $47.08, after the CEO Douglas Ewert told its 9.8 percent shareholder Eminence Capital that all strategic options are on the table.
Netflix (NASDAQ: NFLX) was mentioned cautiously by Barron's. Barron's believes that shares can fall by 50 percent and the company's escalating programming costs will create a "snowball drag" on earnings. Barron's also pointed out that, even if share prices decline 50 percent, shares will still be unattractive with a forward P-E of 23. Despite the overly bearish tone of the article, shares of Netflix only lost 1.24 percent, closing the day at $333.73.
Shares of Yelp (NASDAQ: YELP) popped 3.76 percent to close at $65.13, as the company received a price target raise from Jefferies. The analysts now have an $80 price target on the firm, up from $50. Shares are up around 250 percent year to date.
In a somewhat surprise move, Apple's (NASDAQ: AAPL) iPad Mini is now on sale. Shares were little moved, trading higher by 0.19 percent for the day to close at $520.01.
Related: Surprise! The iPad Mini is Now On Sale
Winners Of Note
Vanda Pharmaceuticals (NASDAQ: VNDA) had a monster day, rising 95.79 percent to close at $13.29. The company was featured in a positive tone by the Food and Drug Adminstration's website--  that its sleep disorder drug tasimelteon is safe and effective enough for an approval vote -- that will probably occur on Thursday.
Chinese-based Vipshop (NYSE: VIPS) saw its shares increase 15.22 percent, closing at $84.48. The company was upgraded by analysts at Piper Jaffray with an increased price target to $102 a share, from $77. Shares were reiterated with an Overweight rating.
Ellie Mae (NASDAQ: ELLI) rose 14.21 percent to close at $26.85. News surfaced during the day that private equity firm Silver Lake has considered buying the company. The price tag on such a deal is believed to be in the $800 million to $1.1 billion range. The company has been looking for a buyer and hired Morgan Stanley (NYSE: MS) to act as advisors.
Decliners of Note
In a major blow, the FDA said Sarepta Therapeutics's (NASDAQ: SRPT) submission of a New Drug Application is "premature." Shares tumbled 64.01 percent, settling at $13.16, after dropping to new 52 week lows of $12.35.
Related: Sarepta Therapeutics: FDA Considers NDA Filing for Eteplirsen "Premature"
Earnings of Note
Pre-market, Dish (NASDAQ: DISH) reported quarterly results that pleased investors. Shares finished the day higher by six percent, closing at $50.35, after the company announced a $0.68 EPS, above the consensus of $0.44.
Investors are anxiously awaiting for earnings to come out from NQ Mobile. (NYSE: NQ) Due to time differences, the Chinese company will report its earnings at 8:00PM EST. Also reporting from China at the same time is Sina Corporation (NASDAQ: SINA)
View Comments and Join the Discussion!
Posted-In: Earnings News Economics Federal Reserve Markets Media Interview General Best of Benzinga