Bill Ackman: Herbalife Will Shut Down (HLF)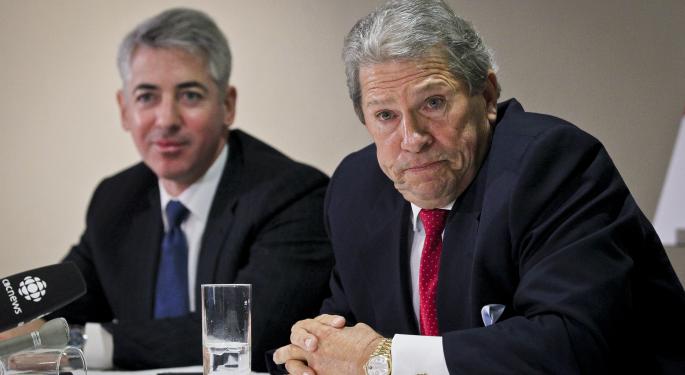 Despite having lost millions thanks to his short position in Herbalife (NYSE: HLF), activist investor, Bill Ackman is holding firm.
In fact, Ackman told MBA students at Oxford's Saïd Business School last week that the company would eventually close.
In a wide-ranging talk, now posted on YouTube, Ackman said, "I'll make a prediction. This business will be shut down. This business will collapse. I can't give you the precise date, but we will have made progress in that direction within 12 months. That's my prediction for today."
Ackman has said the company was a "pyramid scheme" and has backed up that belief with a short position that includes a price target of $0, according to Business Insider. Ackman rarely takes a short position and has said that when he does he believes the world would be better off once that company is out of business.
Related: Ackman Done With J.C. Penney, Sells Entire Stake
Ackman's short position in Herbalife resulted in a Battle Royale of sorts between himself and fellow activist investor, Carl Icahn, who bought 16 percent of Herbalife and declared Ackman "totally wrong." In the Oxford interview Ackman said, "Seems like every day he (Icahn) goes on CNBC and says what a great company it is. Every time he says that the stock goes up a few dollars..."
Icahn isn't the only one who believes Herbalife has potential. Timothy Ramey, analyst at D.A. Davidson & Co. said Tuesday that he expected the company to experience rapid growth in China according to Valuewalk.
China, currently the third-largest market for Herbalife, will become number one by 2015, Ramey said. The company had 77 percent net sales growth year-over-year in China, accounting for 11 percent of Herbalife's total revenue in Q3.
Ramey did acknowledge that Ackman's attacks have had an effect on the company's ability to recruit but that distributor growth was still 13.3 percent in the third quarter.
Short interest in Herbalife, Ramey pointed out, declined from 29.5 percent to 18.3 percent, another reason for optimism. The analyst also said the company has a healthy balance sheet and plenty of cash on hand.
Meanwhile, a source told CNBC Thursday that Ackman was preparing another major presentation on Herbalife at the Robin Hood Investment Conference in November. According to the source, the presentation will include new information that Ackman's firm, Pershing Square, has uncovered, most of it coming from several former Herbalife employees.
Ackman restructured his position last month to reduce the risk of being caught in what Icahn referred to as the "Mother of all short squeezes."
At the time of this writing, Jim Probasco had no position in any mentioned securities.
View Comments and Join the Discussion!
Posted-In: Bill Ackman Carl Icahn China CNBC D.A. Davidson & Co.News Events Media Best of Benzinga