Jim Chanos Talks Long, Short And Ugly Trades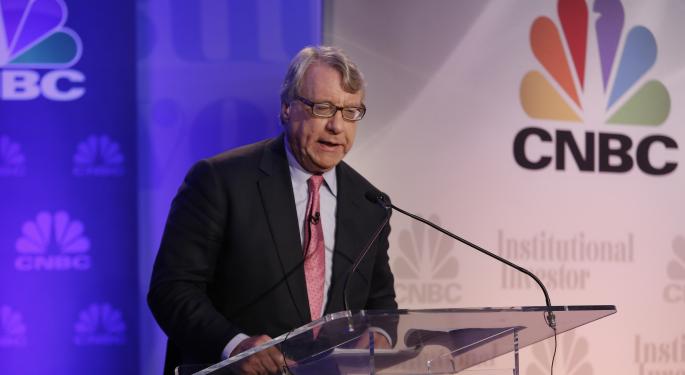 President of Kynikos Associates Jim Chanos offered loads of insight while he served as a guest host on CNBC's Squawk Box Thursday morning, including a look into some of his long and short trading picks. 
Starting with the ugly.
"We had some data out after the [Hewlett-Packard (NYSE: HPQ)] meeting yesterday indicating the decline is accelerating in PCs. Now Meg Whitman seems to be a lot more optimistic than we are. Um, but I will say that at the meeting yesterday, they're now talking about revenue declines in 2014. That's not what they were saying before," said Chanos.
"So, um, in effect the guidance keeps coming down at that company. They're talking about lots of restructuring, talking about margins improving, and I'm just hard pressed to see how margins are going to improve at any of their businesses given the secular head winds that are going on."
Chanos commented that if Hewlett-Packard is still getting worse, then they predict it as probably being a secular short. 
"They have a lot of different businesses. They have enterprise, they have printing, they have PCs, but all of these businesses are declining right now," said Chanos.
"Um, so I think that's the problem, is that they're all under assault. and the question is: Can you turn around a tech company?"
Chanos noted that it's very difficult undertaking. 
"Maybe she [Whitman] can do it. We'll see," said Chanos.
Related: Keeping an Eye on the Four 'New' Horsemen of Tech
As for long trades…
"We're long Apple (NASDAQ: AAPL) and Samsung (OTC: SSNLF)…but, again, I caution people when they look at our SEC filings, understand that our longs are generally offset fundamentally against things for short," said Chanos.
Chanos and team are also ready for the cloud. He commented on their main long pick, while mentioning another big player to watch.
"We're long Workday (NYSE: WDAY), ah, versus one of the cloud's shorts. I mean, the cloud area is also a little problematic…Amazon (NASDAQ: AMZN) is a huge player in the cloud, and just a fun fact about Amazon: Do you know who makes Amazon's servers? Amazon," said Chanos, going on to say that it tells you a lot about the hardware side of the tech business.
At the time of this writing, Jason Cunningham had no position with the mentioned entities. Visit Jason on Twitter @JasonCunningham.
Posted-In: CNBC Long Ideas News Short Sellers Guidance Short Ideas Futures Hot Best of Benzinga
View Comments and Join the Discussion!