Hewlett-Packard No Longer Interested In Multi-Billion-Dollar Acquisitions (HPQ)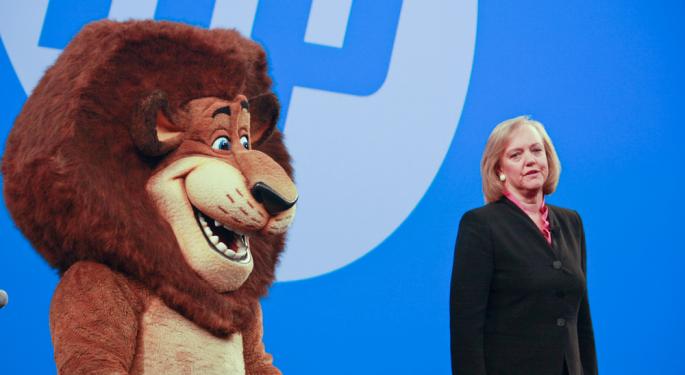 In an interview with CNBC, Hewlett-Packard (NYSE: HPQ) Chief Executive Meg Whitman said that the company does not need to spend billions of dollars on future acquisitions.
"We don't need a $5 or $6 billion acquisition," she told the network. "I think there are acquisitions in the hundreds, $300 million range, maybe some up to a billion and a half that we might be interested in."
Whitman added that she thinks "acquisitions will become part of our future to further our strategic initiatives and shore up some of the product holes in maybe some of our businesses."
That said, the Hewlett-Packard leader admitted that the company has a history of making expensive acquisitions that don't always pan out. To prevent that from happening again, she said that the firm would be judicious in deciding which companies to buy.
Related: Hewlett-Packard Expected To Top Lenovo, Take Back First Place
New firms will be a secondary goal, however. Whitman believes that Hewlett-Packard still has a lot of leverage left within its existing assets, and that it is important for the company to optimize those resources.
Whitman also said that when making an acquisition, Hewlett-Packard to do so in order to really accelerate the business. But it will not make a purchase to buy growth alone.
"Right On Track"
With regard to the firm's performance, Whitman told CNBC that she thinks Hewlett-Packard is "right on track."
"We're two years into a five-year turnaround," she added. "There are businesses that are doing quite well. There are businesses that haven't quite turned the corner yet. But overall I'd say we're on track. We've got a lot of heavy lifting ahead but feel good about where we are."
When Jim Cramer (who interviewed Whitman) asked how Hewlett-Packard could execute a turnaround plan along the lines of the one Louis Vincent Gerstner, Jr. implemented for IBM (NYSE: IBM) in the '90s, Whitman said that she takes a lot of inspiration from that company.
"But the situation was quite different," she added. "IBM was months away from running out of cash and not being able to make payroll."
Meanwhile, Hewlett-Packard generated a "tremendous" amount of cash during the third quarter alone. The company had previously expected to generate $5 billion this year. As of now, the firm has already generated $7.2 billion.
"We are a profitable, healthy financial company," said Whitman. "We're down to almost a zero net debt position on the operating company."
Related: Hewlett-Packard To Launch iPhone Competitor In 2013
But some businesses are declining due to industry shifts, she said. Others are flat.
"What we have to do is align all our resources -- R&D, sales -- against those growth areas so we can migrate away from those declining businesses to the growing businesses," Whitman insisted.
The goal is to capitalize on "this new style of IT," such as the cloud, big data, security, Moonshot or 3Par.
"We've got a lot of great things in the portfolio, and we have to really accelerate the growth of those great products," Whitman affirmed.
No Turnaround Extension
Finally, Whitman told Cramer that she did not think Hewlett-Packard would need to extend the window for its turnaround.
"When you do turnarounds, there are bumps in the road," she explained. "There are ups, there are downs."
But Hewlett-Packard is making fundamental changes that Whitman said will be better for the long haul.
"No one has greater reach and scale than HP," she added. "No one has the ability to bring products to market as fast we do when we work really well together. So there's a lot to be said for HP as it is today. We aim to prove that out."
If the company can't prove it, Whitman acknowledged that she might have something different to say when her five-year plan is over.
Disclosure: At the time of this writing, Louis Bedigian had no position in the equities mentioned in this report.
Louis Bedigian is the Senior Tech Analyst and Features Writer of Benzinga. You can reach him at 248-636-1322 or louis(at)benzingapro(dot)com. Follow him @LouisBedigianBZ
Posted-In: 3PAR CNBCCNBC News Jim Cramer Management Tech Media Best of Benzinga
View Comments and Join the Discussion!