Creator Of The Honest Toddler Bunmi Laditan Won't Back Down In Trademark Dispute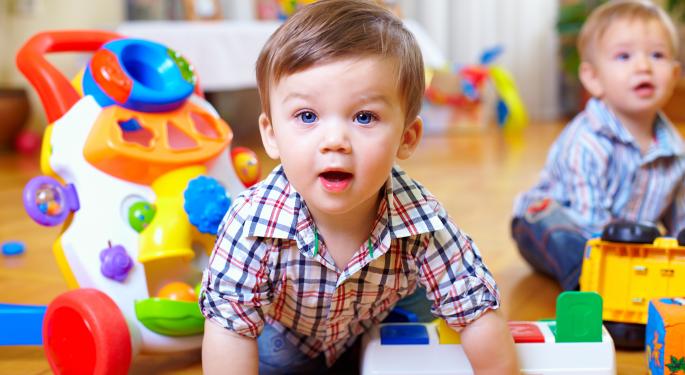 Bunmi Laditan, writer, entrepreneur and creator of the Honest Toddler Twitter feed, which provides humorous insight through quips from a child's perspective, appeared on CNBC's Squawk Box on Friday morning to discuss her current legal trouble involving trademarks, and her new book, The Honest Toddler: A Child's Guide to Parenting.
The mom of three is being taken on by Jessica Alba's The Honest Company, which produces eco-friendly baby products. While it hasn't gone to court, tensions are high. After attempting to trademark the Honest Toddler name, Laditan was emailed and called repeatedly with requests for her to withdrawal her trademark application.
"They're protesting it on the grounds that I'm bringing confusion to the marketplace, and I don't understand that, because they actually interviewed me for their blog last year, but today I'm a problem," said Laditan before she explained that her humor blog, and their eco-friendly lotions and diapers, are fundamentally different products.
The Honest Company's most recent offer to Laditan will give them complete ownership the Honest Toddler name, and in exchange for avoiding court, they will relicense it to her at no cost for 50 years. This is up from a similar deal in which they offered her no-cost usage for one year.
"Which I find problematic, because it would put me at their mercy, number one, and, I mean Honest Toddler is something I've been doing. Why should they have it and give me permission to use it?" Laditan said.
Laditan thought their one year offer was completely ridiculous, but she was shocked that they would even propose "allowing" her to use something that she's worked hard on, and invested so much time into, over the years.
In regards to the fifty year offer, she said that it's definitely not on the table.
"I'd rather have my children inherit my work, and the name that I do, rather than Jessica Alba's children…Why can't I just own my own name?" Laditan said.
Related: The Top 10 Financial Tweets For Friday, August 16
The Honest Company registered a domain name under the TheHonestToddler a few months before Laditan launched the @HonestToddler Twitter handle and HonestToddler.com, but the name was never trademarked by them.
Laditan cited that buying a $15 domain name doesn't give you the right to a company. She compared it to a person owning "TheTarget.com a few months before Target.com (NYSE: TGT) started," and then they turning around and saying that they owned the retail chain's name and would relicense it back to them.
"The U.S. Trademark and Patent Office gave me preliminary approval when I filed my trademark application. They did their own search and found that I wasn't violating any [existing trademarks]," said Laditan.
She then went through a list of many other companies that use "honest" in their names that Alba's Honest Company isn't going after.
Laditan has hired a lawyer, and is ready to fight The Honest Company's expansive legal team court.
At the time of this writing, Jason Cunningham had no position in the mentioned equities.
Posted-In: Bunmi Laditan CNBC CNBC Squawk BoxCNBC News Legal Hot Media Best of Benzinga
View Comments and Join the Discussion!