Groupon's Eric Lefkofsky: 'I Don't Think it Was a Mistake to Go Public'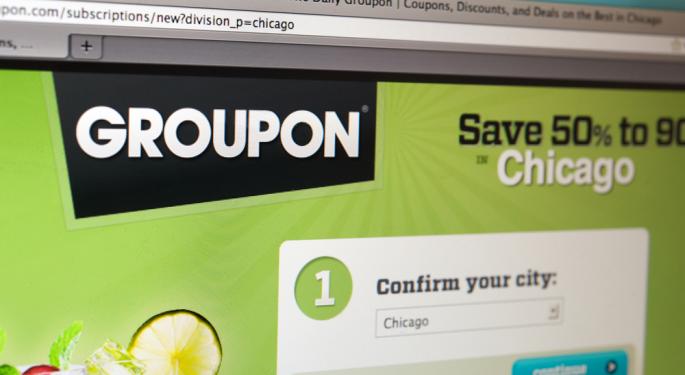 During an interview with CNBC, Groupon (NASDAQ: GRPN) co-founder and co-CEO Eric Lefkofsky said that he does not regret his company's decision to go public.
</p>
"I don't think it was a mistake to go public," Lefkofsky told the network, adding that the company had a shareholder base that was about to exceed the limit of what a company could have at the time. As a result, Groupon more or less had to go public under the SEC's then-current guidelines.
Interview Highlights


Lefkofsky said that he was unsure of any plans that Jana Partners (which recently invested in Groupon) may have for the daily deals giant, but he encourages anyone to become a shareholder.

Lefkofsky added that in terms of local, Groupon is strong internationally.

Groupon co-founder Ted Leonsis said that Groupon is focused on developing great products/services and is more concerned with Main Street than Wall Street.

Leonsis added that Groupon is focused on growth to the top line.

Lefkofsky said that Groupon is in the process of transforming from a "push email experience to a marketplace where people can come" for deals.
"More and more we're trying to change consumer behavior and have them come when they have [a] demand" for something, he said, whether it's food, entertainment or something else.
"We've seen Groupon's main customers shift over time," Lefkofsky added. He said that the "heart" of the company is a 42-year-old woman with two kids.
When asked if Groupon was trading at a discount as a result of Andrew Mason's (the company's former CEO) lackluster performance, he said that he was not sure that was the case. He said he believes that Groupon was misunderstood, which is the same thing Mason said during an interview with CNBC last September.
During an interview with Business Insider this week, Lefkofsky was asked about his decision to turn down Google's (NASDAQ: GOOG) offer to buy Groupon at $5.75 billion. He told BI that his wife won't let him forget that decision and that she occasionally elbows him in the ribs when Google's offer is mentioned.
Today, when CNBC asked about the stock's initial erosion, Lefkofsky said that it "doesn't feel great when your stock goes down and you have a lot of shares." He is taking a long-term view of Groupon, however, and is more concerned with where the stock will be in the future. He also said that he is very focused on the fundamentals.
Co-CEO Ted Leonsis added that he and Lefkofsky are focused on getting things right for the customer. He said that if Groupon continues to do that, "The numbers will speak for themselves."
In clarifying the claim that Groupon can become a $100 billion company, Lefkofsky said that the comment was meant to illustrate that his firm is not focused on where revenues are today, it is focused on getting 10 or 20 times that number.
"We sit at the intersection of mobile and local, which, as Ted mentioned, is probably one of greatest places to me," said Lefkofsky. "…I think we're probably the first e-commerce company of scale that is predominantly mobile."
With regard to the company's next CEO (Lefkofsky and Leonsis plan to appoint someone new later this year), Leonsis said that the Board has set up a committee and that it is very active in the committee, but the formal search will not begin until June.
"Eric is doing a fantastic job of running the company on a day-to-day basis," Leonsis told CNBC, adding that the company has built a "world-class" senior management team. He said he would rather be deliberate and thoughtful in bringing world-class talent to the team at the right pace, rather than rushing ahead to acquire new leaders.
Louis Bedigian is the Senior Tech Analyst and Features Writer of Benzinga. You can reach him at 248-636-1322 or louis(at)benzingapro(dot)com. Follow him @LouisBedigianBZ
Posted-In: andrew masonM&A News Management IPOs Success Stories Tech Media Best of Benzinga
View Comments and Join the Discussion!