Winter Storm Not Enough to Spike Natural Gas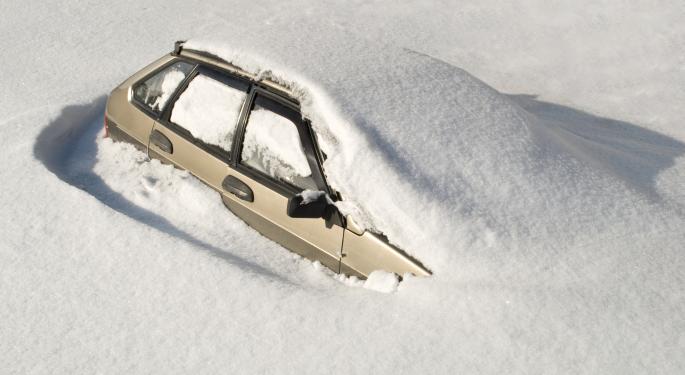 The Northeast is bracing for up to two to three feet of snow, along with 60 mile per hour gusts in the first major winter storm of the year Friday.
Still, that wasn't enough to keep Natural Gas Futures from sliding almost four percent Thursday, falling 13 cents to a session low of $3.28 per million BTUs before ending the day at $3.30.
News of Friday's huge winter storm didn't push prices, mostly because natural gas traders look at the big picture. And, the big picture shows that there has been a smaller-than-expected decline in weekly gas supplies.
CNBC said that the U.S. Energy Information Administration reported natural gas supplies fell by 118 billion cubic feet last week, less than consensus estimates of 122-126 bcf. The decline in natural gas in storage was greater than the same week in 2012, but far less than usual for this time of year.
Natural gas prices climbed to a high of $3.45 in the previous session on early forecasts of the winter storm that is expected to blanket much of the Northeast with several feet of snow Friday.
Overall, temperatures have been above normal this winter. Traders say this week's weather was priced into the market and the focus of Thursday's session was on the storage data.
Investing.com reported that natural gas futures for delivery in February fell by as much as 2.2 percent Thursday to trade at a session low of $3.34 per million BTUs.
The January contract traded at $3.41 prior to the release of the U.S. Energy Information Administration report.
The report showed that natural gas stocks in the Producing Region were 174 billion cubic feet above the five-year average of 819 billion cubic feet after a net withdrawal of 20 billion cubic feet.
Updated long-range weather forecasts released earlier continued to call for near-term cold in the eastern half of the country.
Weather service provider, AccuWeather, said that it expected the low in Chicago on February 15 to be 10 degrees Fahrenheit or 12 degrees below normal.
The heating season from November through March is the peak demand period for U.S. gas consumption. Nearly half of all U.S. households use gas for winter heating.
Elsewhere on the NYMEX, light sweet crude oil futures for delivery in March fell 0.45 percent to trade at $96.19 a barrel and heating oil for March delivery added 0.7 percent to trade at $3.20 per gallon.
Posted-In: EIA Heating OilCNBC News Commodities Events Markets Media Best of Benzinga
View Comments and Join the Discussion!