Facebook's Sandberg Sends Stock Higher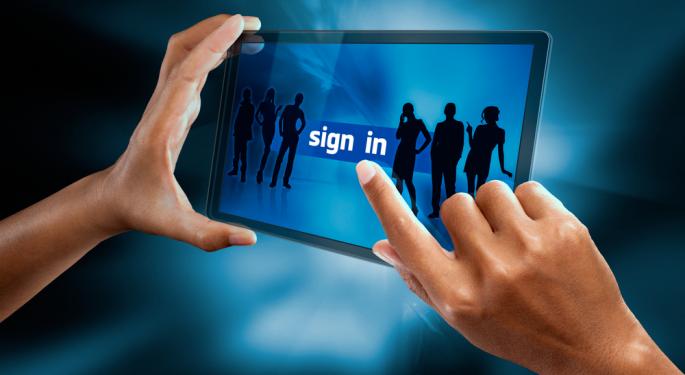 In an interview CNBC aired this morning, Facebook (Nasdaq: FB) COO Sheryl Sandberg laid out the social network's plan to monetize its enormous user base. According to Sandberg, the company will strive to offer new services that make it easier for Facebook users to spend money while online. Investors have reacted positively to the interview, as Facebook traded higher throughout Monday's session.
Clearly, Facebook management was stunned by precipitous decline of the share price following the IPO. "We're obviously disappointed and really surprised by what happened in the IPO," Sandberg told CNBC's Julia Boorstin. "We're …really focusing on proving to the world that we can continue to grow our business."
Wall Street has been negative on Facebook's inability to monetize its mobile users, characterized as the company's "mobile problem" by BTIG analyst Richard Greenfield -- one of the company's sharpest critics. ""If the mobile ads were well targeted and creative, that would be a good thing, or at least not an annoying thing. But the ads seem untargeted and not very creative," Greenfield told Barron's last week."Facebook seems to be proud to have the biggest and most disruptive ads on mobile devices. I struggle with the idea that bigger is better. It's not a great user experience. If consumers are upset with this, it could result in a reverse spiral down."
Greenfield points out that 11% of Facebook users accessed the site using only their mobile devices in June, up from 9% in March. The Barron's article also points out that younger Facebook users are increasingly accessing the site from mobile devices while, at the same time, there has been a sharp increase in the number of older users accessing Facebook from PCs. If Facebook cannot develop an effective mobile strategy, Greenfield and other bearish analysts say, the growing cadre of mobile users may drift away from Facebook.
Today's CNBC interview with COO Sandberg did lay out some of the company's new business strategies. One area might be premium services for businesses such as analytics or customer service. "We've heard from businesses all over the world that they want more from us," Sandberg told CNBC. "There are things they'd pay for they really want us to provide. So it's an area that we're currently starting to explore."
One possible application that is getting a lot of press is the "Want" button, which users would click when they see an advertised product that they would want to buy. Sandberg would not comment to CNBC on whether there would be a want button or not but did say that "there is the ability to build all kinds of different open graph implementations and there are people working on that."
Facebook is also testing an e-commerce solution through Facebook Gifts. Sandberg likes the potential for Facebook Gifts because wishing people a happy birthday is a big part of Facebook activity. Users have the ability to send gifts to their Facebook friends, even if they don't know their mailing address. Recipients get to preview their gifts in Facebook immediately before receiving the real thing a few days later.
It remains to be seen if today's interview will allay investor concerns over the company's interview to grow revenues and earnings. Yet, the rally today has pushed the share price back above its 50-day simple moving average for the first time since September 21. A close above the 50-day moving average could signal at least a short-term up leg that could test the high of 23.37 seen on September 19th.
Posted-In: CNBC News Barron's Management Media Best of Benzinga
View Comments and Join the Discussion!