Viewers Tuning Out CNBC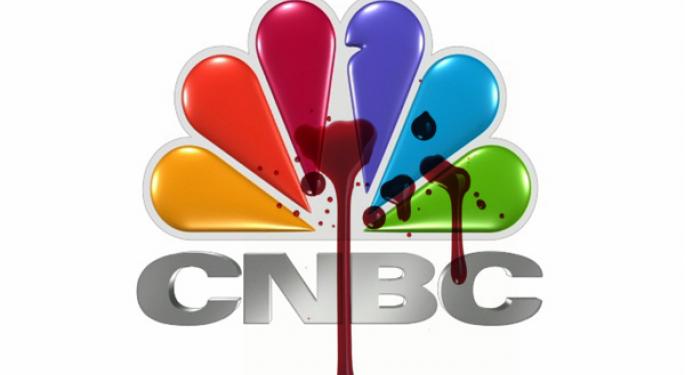 Competition is heating up in the business news segment. The May Nielsen numbers suggest that CNBC's ratings are being squeezed by the likes of Fox Business Network.
The substantial stock market sell off in May, which was the worst in nearly 50 years, may also have contributed to lower numbers at CNBC. According to Nielsen, CNBC lost 14% of its coveted 25-54 advertising demographic during the business day (5a-7p) versus last year. CNBC's post-market show Fast Money is down a whopping 17% year over year.
Making the situation more interesting is the fact that CNBC has spent a considerable amount of money bringing in new talent in the wake of Charlie Gasparino's defection to Fox Business. CNBC also lost Dylan Ratigan to sister network, MSNBC. CNBC has added commentators such as John Carney, Amanda Drury, and Kate Kelly in recent months. Herb Greenberg also just debuted yesterday as CNBC's Senior Stock Commentator.
CNBC has long been criticized for being too easy on corporate management and for doing too much cheerleading, especially in the go-go years. Now that viewers have a wider selection of business channels to consider, it would appear as if CNBC must step up its game in order to retain its position.
It does not appear as if the network is taking the ratings slump sitting down, however. CNBC has added new shows such as "Strategy Session," which has yet to debut, and "Options Action." It will be very interesting to see how this competition between the big three business networks plays out, and how each evolves going forward.
From a viewer's perspective this seems like a very good development, because it will force Bloomberg, FBN, and CNBC to continually improve and innovate their coverage, whereas in the old days, complacency may have been a tempting alternative.
View Comments and Join the Discussion!
Posted-In: Amanda Drury Bloomberg Charlie Gasparino CNBC CNBC Dylan Ratigan Fast MoneyMedia