Barron's Picks And Pans: FedEx, Intel, Caterpillar And More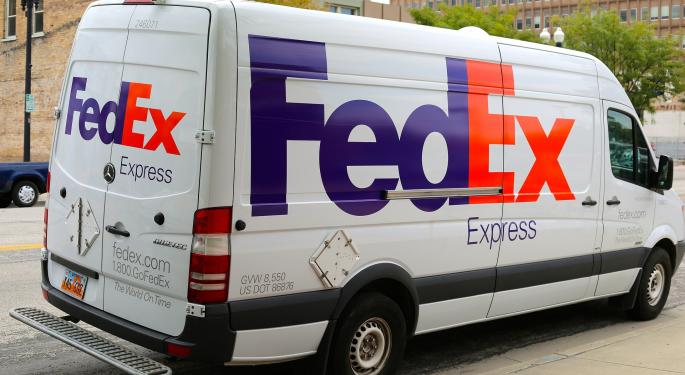 This weekend's Barron's asks whether it is time for investors to move on from FAANG stocks.
Other featured articles offer the prospects for a delivery giant with tailwinds and a top chip maker that may be unfairly blamed.
Also, what to watch for at the Consumer Electronics Show and when to cash out on a construction equipment giant.
"FedEx on Track to Deliver Outsize Returns" by Jack Hough makes a case for shares of delivery giant FedEx Corporation (NYSE: FDX) to rise 20 percent or more over the next year as it benefits from rising shipping rates and an earnings lift when tax cuts kick in. And see how Barron's thinks it stacks up against the competition and what the outlook is for coming dividend hikes.
Leslie P. Norton's "Time to De-FAANG Your Portfolio?" suggests that given the lofty valuations of Facebook, Inc. (NASDAQ: FB), Apple Inc. (NASDAQ: AAPL) and the other FAANG stocks, it may be time to trim exposure to big tech. The article offers a look at the mutual funds with the biggest exposure to these stocks for investors looking to reduce their exposure.
In "Don't Blame Intel for the Failures of Computer Security," Tiernan Ray shares why the revelation that Intel Corporation (NASDAQ: INTC) chips were vulnerable is probably much ado about nothing. If it isn't Intel chips, see what Barron's said the real problem is. The article also takes a look at how tradable the Consumer Electronics Show, which kicked off Sunday in Las Vegas, is for investors.
See also: 7 Top Picks For 2018 And Their Corresponding ETFs
Also find out what investors should know about the Consumer Electronics Show, the Super Bowl of technology trade shows, according to "Why Tech's Big Show Still Matters to Investors" by Jon Swartz. A company that shines at the show can be rewarded with a bump in its stock price, as occurred with NVIDIA Corporation (NASDAQ: NVDA) last year. Who will rise and shine this year?
In Jack Hough's follow-up article, "With Caterpillar Soaring, It's Time to Sell," the question of how much better things can get for Caterpillar Inc. (NYSE: CAT) is raised. The stock was profoundly unloved when Barron's last took a close look, but since then the company is leaner, retail sales have soared and the stock has outperformed some dot-com darlings. Time for investors to move on?
Also in this week's Barron's:
How to see if you are stuck in a high-fee mutual fund
The outlook for M&A in 2018
How high the Dow Jones Industrial Average can go
Whether gold will regain its glitter
A tough new defense against hackers
How often small cap analysts miss the mark
The prospects for global growth in payouts
Why China's economy could disappoint in 2018
View Comments and Join the Discussion!
Posted-In: Apple Caterpillar CES Consumer Electronics Show FAANG stocks Facebook FANG StocksMedia Best of Benzinga