Barron's Picks And Pans: Tesla, Sony, PayPal And More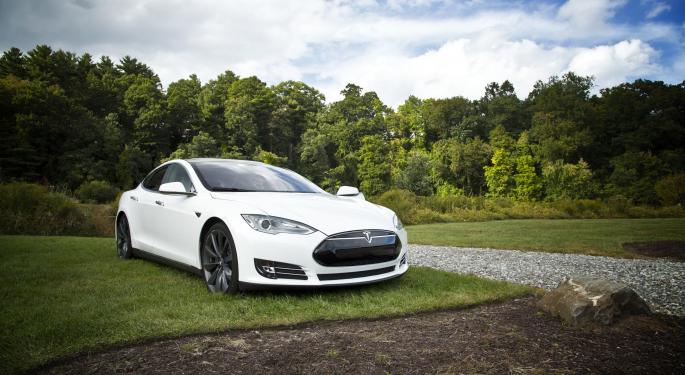 This weekend's Barron's cover story takes a look at the prospects for big car makers as the industry changes.
Other featured articles discuss a consumer-electronics giant that is out of the doghouse and why consumer staples stocks are under pressure.
The best bets in telecoms and an online payments leader are also featured.
"Will Traditional Auto Makers Steal the Future From Tesla?" by Andrew Bary points out that global automakers are rapidly innovating and restructuring legacy operations, as electric cars are widely expected to supplant vehicles powered by the internal-combustion engine. See why the stocks of the big car makers are so cheap while EV leader Tesla Inc (NASDAQ: TSLA) is overvalued.
Jack Hough's "Sony Recaptures Its Youthful Bounce" takes a look at why Japan's consumer-electronics giant is "out of the doghouse" and on a roll for first time in years, as it enjoys new growth from the likes of gaming and camera chips. Even its TV and music units are thriving. And see why Barron's thinks Sony Corp (NYSE: SNE) stock could jump another 20 percent in the next year.
In "Don't Gamble on Consumer-Staples Stocks," Teresa Rivas discusses why this sector's longtime role as a bastion of safe and high-yielding companies has come under pressure. So Procter & Gamble Co (NYSE: PG) and the other four largest food, beverage and household-products companies do not look much like bargains now. However, there is at least one company bucking the trend.
See also: Here's Why Apple Will Be Worth $1 Trillion By The End Of 2017
Despite battered share prices, telecoms still boast healthy dividend yields, says "Targeting Those Telecom Payout Yields" by Teresa Rivas. But with the industry rapidly changing, have income-oriented investors lost a safe haven? Barron's offers a guide for how to sort through the sector. See whether AT&T Inc. (NYSE: T) or Verizon Communications Inc. (NYSE: VZ) is a better bet?
In Emily Bary's follow-up article, "After Big Jump, PayPal Stock Still Looks Good," see why Barron's says the new Pay With Venmo feature being rolled out now could add substantially to results down the line. Paypal Holdings Inc (NASDAQ: PYPL) stock has been one of the year's big winners, but there is likely further upside ahead, says the article. Could the share price rise another 15 percent?
Also in this week's Barron's:
Barron's guide to retiring well
The best bargains in bonds
How Saudi Arabia poses growing risks for investors
A new social anxiety in the tech crowd
How the Powell Fed will be tested
Reasons oil prices are headed higher
Reasons to short exchange traded funds
The biggest risk to the global economy
Posted-In: AT&T Barron's PayPal procter & gamble Sony Tesla VerizonMedia Best of Benzinga
View Comments and Join the Discussion!