Barron's Recap: Trump's Disastrous Views On China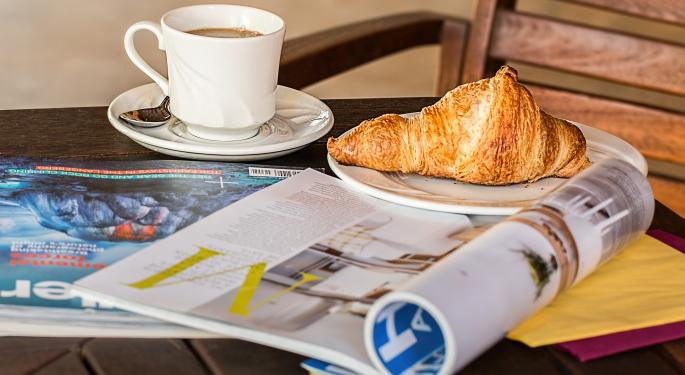 The cover story in this weekend's Barron's is a look at Donald Trump's views on China.
This issue also includes a special report on bond ETFs, a look at stocks with blowout earnings and legendary investor Jim Rogers on the coming global bear market.
Cover Story
"Trump Is Wrong on China" by Randall W. Forsyth.
Presidential candidate Donald Trump is wrong about China, according to this week's cover story in Barron's. While he demands that the People's Republic boost the value of its currency against the dollar, weakness in its economy means the yuan will fall even further.
Even worse, his proposed tariffs could lead to a trade war with China — perhaps even an actual war, says Barron's. And the article asks when the Republican Party will tire of his antics.
Related Link: Does Warren Buffett Play By His Own Rules?
Feature Stories
In "Emerson Electric Could Pop 25%," Robin Goldwyn Blumenthal makes the case that the restructuring at Emerson Electric Co, which includes spinning off a poorly performing unit, should help revive the company and boost its beaten-down stock.
"7 Stocks With Blowout Results" by Jack Hough names seven companies with better-than-expected earnings and revenue that were truly a surprise. See why such results are often a sign of better things to come.
Chris Dieterich's "New Tactics for Bond ETFs" is a special report. Exchange-traded fund investors have a growing number of options for their fixed-income portfolios, says the article. Four advisors discuss whether the new products are good.
This little-known freight hauler has become a regional rail powerhouse, according to "Genesee & Wyoming: The Little Railroad That Could" by Jack Willoughby. See why Genesee & Wyoming Inc could win big if larger rivals merge.
In John Kimelman's "Jim Rogers: His Outlook for Stocks, Commodities," discover why this legendary investor thinks a global bear market is coming. Rogers suggests learning about markets in Russia, Nigeria, Hong Kong and China, and he names some of his current picks.
"Two for the Money" by Reshma Kapadia offers a profile of fund manager Sandy Rufenacht of Aquila Three Peaks, who has excelled by focusing on data and the executives with whom he invests. Rufenacht discusses the similarities between car auctions and bonds.
The CEO spotlight is turned on Bob Greifeld in Alexander Eule's "Nasdaq's Greifeld: How He Built a Global Giant." See how Greifeld took the exchange from a domestic trading backwater to a global financial powerhouse, boosting its shares 832 percent along the way.
Check out "Blue Hills Bancorp: Solid Bank at a Discount Price," in which David Englander takes a look at why Blue Hills Bancorp Inc, which recently underwent a thrift conversion, should be able to boost profits as it continues to expand its loan operations and cuts costs.
"Trans-Pacific Partnership Brings Diffuse Benefits" is an editorial commentary by Thomas G. Donlan in which he discusses how foreign competition makes healthy additions to our national wealth, but they are spread broadly and often not noticed.
In Barron's Asia: "Modi Yet to Deliver India's Reagan-Thatcher Moment" by William Pesek suggests that Modi-mania has suffered a reality check amid pandering to vested interests and a lack of bold reforms.
Related Link: Valeant Investors: These 5 Companies Survived Major Accounting Scandals
Columns
Columns in this weekend's Barron's discuss:
Figuring out which industrial companies are not suffering
Why consumer spending is better than reported
The prospects for the much-anticipated spin-off of Match.com
How banks are pushing back on financial websites
Reasons to stick to funds from fund companies
Why dividends are on track for record year
Whether it is time to break up Berkshire Hathaway Inc. (NYSE: BRK-B)
At the time of this writing, the author had no position in the mentioned equities.
Image Credit: Public Domain
View Comments and Join the Discussion!
Posted-In: Alexander Eule Aquila Three Peaks Bob Greifeld Chris Dieterich David Englander Jack Hough Jack WilloughbyMedia Best of Benzinga