Barron's Recap: Caring For Elderly Parents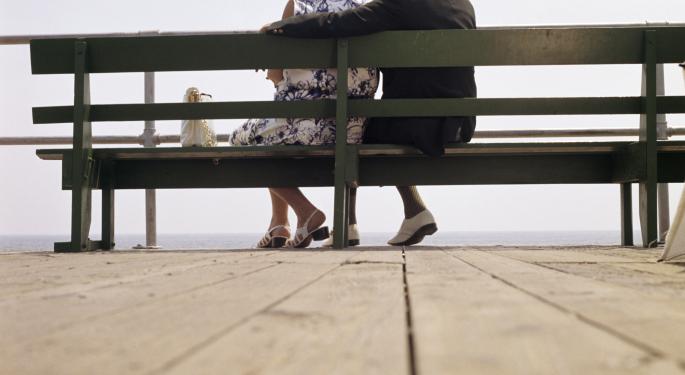 The cover story in this weekend's Barron's focuses on banks helping clients care for aging parents.
The Penta Quarterly includes a look at America's top 40 wealth management firms.
The prospects for BorgWarner, Autodesk, Edgewell Personal Care, JetBlue Airways and more are also covered in feature stories.
Cover Story
"Caring for Aging Parents" by Stacy Perman.
How private banks are tackling the financial and emotional issues that affect elderly parents is the focus of this week's cover story in Barron's. They offer services ranging from filing medical claims to finding in-home care. But competition is heating up, and the handholding can be costly, says the Penta article.
See also: How T. Boone Pickens Wants To Transform Energy
Feature Stories
In "VW Scandal Socks Auto-Parts Makers," Jack Hough suggests that parts suppliers such as BorgWarner Inc. (NYSE: BWA) and Delphi Automotive PLC (NYSE: DLPH) may be choking on Volkswagen's dirty exhaust, but their stocks now look like bargains.
"Autodesk's Cloud Bet Could Get Big Returns" by Alexander Eule makes a case that the design-software pioneer transition could lead to short-term earnings pain but long-term stock gains for Autodesk, Inc. (NASDAQ: ADSK).
Craig Mellow's "Emerging Markets Haven't Hit Bottom Yet" takes a look at why 20 percent drops have not made emerging markets stocks cheap. Fixed income may look better, but be wary warns Barron's. The article features three bond exchange traded funds (ETFs).
Neglected by investors since the breakup of Energizer Holdings back in July, Edgewell Personal Care Co (NYSE: EPC) stock could surge over the next year, says "Edgewell Shares Look Cheap" by David Englander. See why bears are softening their stance on the stock.
In Eric Uhlfelder's "A Hedge Fund Thrives by Sensing Danger," manager Jeff Osher of Harvest Small Cap Partners Strategy is profiled. Find out why Osher's portfolio never tilts far from market neutral, and why right now he is nervous about market liquidity.
Check out "John Buckingham: The Education of a Value Investor," in which Reshma Kapadia interviews the chief investment officer at Al Frank Asset Management. Buckingham shares why he now likes General Motors Company (NYSE: GM), Walt Disney Co (NYSE: DIS) and others.
Alexander Eule's "Independent Thinker" offers the best advice of UBS advisor Chris Errico. Discover why Errico avoids ETFs for his clients in favor of individual stocks, master limited partnerships, short-term municipal bonds and hedge funds.
"Idealism or Ideology?" is an editorial commentary by Thomas G. Donlan in which he ponders whether Pope Francis brings a message that misses the economic point.
Follow-up article "Time to Take Profits in JetBlue Shares" points out that shares of JetBlue Airways Corporation (NASDAQ: JBLU) have rallied 150 percent and now sell at a premium to peers. With competition on the rise, it may be time to consider taking profits.
In Barron's Asia: "Xi's Obi-Yuan Kenobi Act Fails to Convince" by Wayne Arnold indicates that though China's president Xi Jinping says there is no basis for a weaker yuan, a slowing economy back home suggests otherwise.
Penta Quarterly
Articles in this Penta Quarterly discuss:
Hunting quail in Georgia
Contemporary Indian art
BMWs with extra power
Swiss watchmaker Girard-Perregaux
Zegna, the world's largest luxury menswear company
The five best helicopters
Tuning up the New York Philharmonic
The turnaround at SunTrust's private bank
Overseas dividends
Coupling trusts with family loans
Trend spotting fashions and passions
Making the family portrait a work of art
See also: Meet Tien Tzuo, The Man Helping Businesses Join The Subscription Revolution
Columns
Columns in this weekend's Barron's discuss:
The scandals at Volkswagen and Turing Pharmaceuticals
Whether it is too soon to bet on Volkswagen
Which security stocks are buyout candidates
Why share buybacks are only a short-term fix
Economic blunders by Janet Yellen and others
Growing skepticism about share buybacks
Vanguard's new dividend ETFs
The week's dividend hikes
At the time of this writing, the author had no position in the mentioned equities.
Keep up with all the latest breaking news and trading ideas by following Benzinga on Twitter.
Posted-In: autodesk Barron's borgwarner Delphi Automotive Edgewell Personal Care General MotorsTop Stories Media Best of Benzinga
View Comments and Join the Discussion!