Barron's Recap: Time To Buy Samsung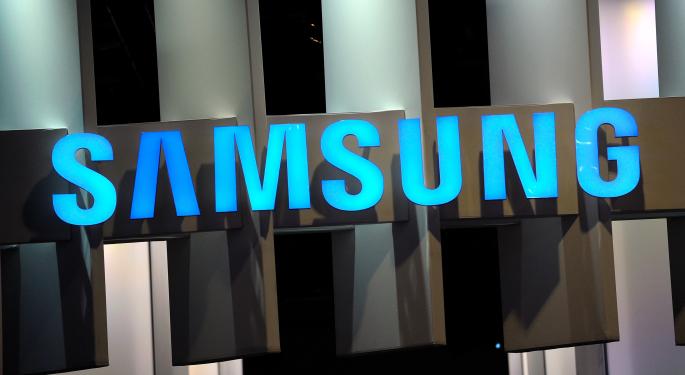 This weekend in Barron's online: why Samsung Electronics (OTC: SSNLF) looks like a bargain, and the prospects for VF Corp., the Internet of Things, auto suppliers, Blackstone Group and more.
Cover Story
"Time To Buy Samsung" by Andrew Bary.
Samsung Electronics may be the world's cheapest big stock, says this week's cover story in Barron's. Sharply lower cell phone profits may be weighing on earnings and driving away investors, but the company still has plenty going for it.
See why this Korean consumer electronics giant is not likely to go the way of Nokia, Motorola and BlackBerry, but looks more like rival Apple did last year, before its latest rally. Barron's makes the case for Samsung shares to rise 50 percent.
See also: How To Use S&P 500 Futures To Predict Market Movement
Feature Stories
Sandra Ward's "VF's Deal Machine" ponders whether apparel maker VF Corp (NYSE: VFC) may be on the hunt for acquisitions, thanks to the cash flow from the resurgence of its Timberland brand. See who VF might have in its sights.
In "The Next Industrial Revolution," Tiernan Ray suggests that the exploding growth of the so-called Internet of Things is likely to benefit a number of companies, from up and comers to old-school names. See which companies are among the potential winners.
"Take a Spin With Auto Suppliers" by Jack Hough points out that the sell-off in shares of auto suppliers such as BorgWarner and Delphi means that they look like bargains, at a time when their prospects are promising due to favorable industry trends.
Portfolio manager David Green is profiled in "Hotchkis & Wiley Value Opportunities Takes the Trail Less Traveled" by Sarah Max. Green shares how the fund seeks opportunities in stocks shunned by the market. See what four things he is a stickler for when it comes to uncovering deep value.
See "Don't Dump Those Stocks and Junk Bonds!" for Lawrence C. Strauss's interview with Northern Trust's chief investment officer, Bob Browne. He shares why overall he thinks equities are more attractive now than the alternatives. Find out the perils of ditching risky assets now.
In Alexander Eule's "Top Advisor's Balancing Act," Jonathan Kuttin, a Barron's top independent advisor, offers his best advice on translating the markets into goals that clients can understand. Discover why Kuttin is looking farther afield for returns.
Governments around the globe have cracked down on art funds, according to Crystal Kim's "Art Funds Take a Dive." While that may have chased investors away for the time being, see why Barron's thinks it ultimately could lead to a renaissance for the art fund market.
"Taken for a Ride" is an editorial commentary by Thomas G. Donlan that discusses why casinos have not revitalized Atlantic City.
See also: Financial Crisis Bailouts: What Did They Actually Cost Taxpayers?
Columns
Columns in this weekend's Barron's discuss:
Energy stocks and Putin's Russia getting clobbered
Repairing the technical damage to the overall market
Picking winners and avoiding value traps in a sell-off
What has prompted the rush of tech company split-ups
Who can predict earnings surprises
How mutual funds traders keep trading costs low
Fidelity's new active bond exchange traded funds (ETFs)
Companies now being scrutinized by the U.S. Supreme Court
The Kraft Foods dividend hike
Online Exclusives
Barron's online exclusives this weekend include:
"BlackStone: Even Better Value After Spinoff" by Teresa Rivas. Now that The Blackstone Group L.P. (NYSE: BX) has announced its intention to spin off its financial advisory business into a new publicly traded company, Barron's takes a look at whether this will be good for shareholders.
"Facebook Insiders Post $80 Million in Stock Sales" by Grace L. Williams. The chief operating officer, chief technology officer and other insiders took advantage of record high shares prices to sell more than a million Facebook Inc (NASDAQ: FB) shares. Also see who else has seen recent insider selling and buying.
At the time of this writing, the author had no position in the mentioned equities.
Keep up with all the latest breaking news and trading ideas by following Benzinga on Twitter.
Posted-In: Barron's Blackstone Group Facebook Internet of Things Samsung VF Corp.Top Stories Media Best of Benzinga
View Comments and Join the Discussion!