Barron's Recap: The New American Express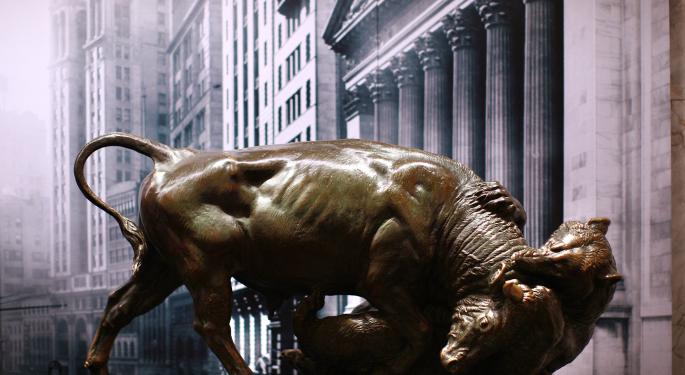 This weekend in Barron's online: how American Express is charging ahead and a look at the Senate race in Kentucky, as well as the prospects for Alibaba, Lam Research, Popular, Ventas, Provident Financial and more.
Cover Story
"The New American Express" by Avi Salzman.
With Apple Pay set to help it chip away at cash purchases, American Express (NYSE: AXP) shares could surge, says this week's cover story in Barron's. See why profits could rise at a double-digit rate, lifting the stock nearly 30 percent.
See how American Express is targeting a younger, less-affluent clientele who prefer plastic to cash, while also maintaining the exclusivity of its core brand. See also how a Justice Department suit could change the company's relationship with merchants and what that might do to it share price.
See also: Analysts React To Google-eBay Merger Rumor
Feature Stories
Andrew Bary's "Jackpot for Alibaba" suggests that shares of the Chinese e-commerce giant could surge 20 percent and then keep going from there when Alibaba comes public this week. Take a look at what is expected to be the hottest deal of the year.
"Lam Research Could Return 20% in a Year" by Jack Hough takes a look at how Lam Research (NASDAQ: LRCX) is gaining share in semiconductor-fabrication equipment at a time when chip makers have to invest to remain competitive.
In "There's a Lot to Like About Popular," Jack Willoughby points out that Puerto Rico's biggest bank has paid back TARP funds and boasts strong capital levels. See why Popular (NASDAQ: BPOP) is a solid franchise with shares that look cheap.
Mark Finn, who runs T. Rowe Price's Value Fund, is profiled in "Rewards of Experience" by Lawrence C. Strauss. See how Finn routinely beats his peers by focusing on redeemable companies with shares that have been beaten down and what his current likes are.
See "Ventas Shares Deserve an Upgrade" for Christopher C. Williams' take on why an aging population and savvy deals have helped turn Ventas (NYSE: VTR) into one of the nation's largest senior health care real estate investment trusts (REITs). Can shares rise 25 percent?
"In Kentucky, a Derby for the History Books" by Jim McTague discusses GOP Senate leader Mitch McConnell's struggle to keep his seat in November. See how this surprising and costly race just might determine which party controls the U.S. Senate.
In David Englander's "Provident Financial Strikes a Savvy Deal," see how rising loans, falling costs and an cheap stock offer an opportunity for Provident Financial Services (NYSE: PFS) investors as the small New Jersey-based banking company expands.
Barron's top independent advisor, Peter Mallouk, offers affluent investors the kind of service usually reserved for the super-rich, says Steve Garmhausen's "A Family Office for All." See why Mallouk likes emerging market stocks now.
See "A Flexible Investor Likes Big U.S. Stocks" by Andrew Bary for an interview with Kurt Feuerman, chief investment officer of AllianceBernstein Select Equity Portfolios. Feuerman shares why it is still a good time to own U.S. stocks despite the five-year bull market, and he names some of his current picks.
"The Agony of Victory" is an editorial commentary by Thomas G. Donlan, in which he suggests that, as another war looms, the right question for Americans to ask is whether war can be futile but necessary.
See also: Apple Event Triggers Winners And Losers
Columns
Columns in this weekend's Barron's discuss:
Fed policies that keep Wall Street calm despite global conflicts
New trouble for Trump in Atlantic City
Mistakes central bankers make
Whether it is time to take profits in Apple
Websites that offer first-rate analysis of corporate accounting
A different way to play closed-end funds
When to buy the hedged version of foreign exchange-traded funds
The so-called Oracle of Buffalo
Who boosted dividends this week
How inflation has robbed the bull of its run
Apple's thin, beautiful, lightweight smartwatch
Canada inching toward economic deregulation
Keep up with all the latest breaking news and trading ideas by following Benzinga on Twitter.
Posted-In: Alibaba American Express Barron's Lam Research Popular Provident Financial VentasMedia Best of Benzinga
View Comments and Join the Discussion!