Barron's Recap: The Tired Bull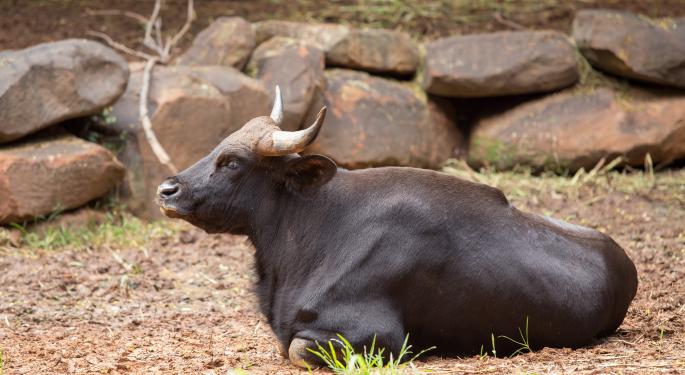 This weekend in Barron's online: the Barron's Big Money poll, as well as the prospects for AIG, Pfizer, Tullow, Trinity Biotech and more.
Cover Story
"U.S. Money Managers Are Cautiously Optimistic" by Jack Willoughby.
Barron's Big Money poll reveals that fewer money managers are bullish. But this week's cover story in Barron's says these pros still see room for stocks to rally 10 percent through the middle of next year.
In the latest Big Money poll of institutional investors, 56 percent of respondents called themselves bullish or very bullish about U.S. stocks today. That was down from 68 percent six months ago. But it is not all doom and gloom. "The business cycle is intact, and we're nowhere near the top," says one expert quoted in the article.
See also the percentage of Big Money managers who consider the market fairly valued and how many say their customers are neutral or bearish about stocks now. See where they predict the Dow, the S&P 500 and the Nasdaq are headed. See what they expect from the U.S. economy and corporate profits going forward, and how their favorite stocks have changed since the previous poll was taken six months ago.
See also: If The 2014 Stock Market Action Has Made You A Little Uneasy, You're Not Alone
Feature Stories
"Why AIG Stock Could Double in Five Years" by Jack Hough makes the case that shares of American International Group (NYSE: AIG) could rise sharply as better technology and more prudent growth help the insurance giant generate stronger results.
Andrew Bary's "Assessing Pfizer's Future" points out that leading pharmaceutical company Pfizer (NYSE: PFE) is mulling splitting itself into three parts in order to realize value. See why its shares could rise 25 percent.
In "Tullow: The Best Oil Company You Never Heard Of," Jonathan Buck discusses this U.K.-based independent oil and gas company. After years of successes, its new-well success rate fell, but better results could lift shares 25 percent.
Andrew Wellington of Lyrical Asset Management is profiled in "Writing His Own Songs" by Michael Shari. See why the Lyrical U.S. Value Equity-EQ strategy has been on a hot streak, as well as why Wellington now likes Avago and Nasdaq.
"Preparing for the Bubble to Burst" by Lawrence C. Strauss features an interview with hedge fund manager Doug Kass. The founder of Seabreeze Partners shares why he thinks the S&P is at least 12 percent overvalued and why he has ramped up his short positions.
In David Englander's "Trinity Biotech Shares Could Keep Climbing," the focus is on how rising sales of diabetes testing instruments and a new heart-attack test may add to the momentum of Trinity Biotech (NASDAQ: TRIB). Could the stock double?
The three best bars in New York for raising your hipness quotient with your 20-something kids are featured in Penta article "Bars, Salons, and Saloons." It includes videos that offer a peek at each of the three.
In "Keeping a Different Beat" by Steve Garmhausen, the best advice from financial advisor Scott Magnesen is presented. Magnesen has reached the top ranks by catering to "Ma and Pa America," says the article. See why he recommends buying and holding for 10 years or more.
"An Arrow in the Air" is an editorial commentary by Thomas G. Donlan that discusses how Aereo's challenge threatens the established order.
See also: 3 Ways To Profit From Merger Activity In The Pharmaceutical Sector
Columns
Columns in this weekend's Barron's discuss:
Bill Ackman and Valeant's daring new deal
How long the tidal wave of corporate deals will last
Whether to "sell in May and go away" the year
Valuing big tech stocks in the wake of earnings
SunTrust's new electronic planner
An app for beating jet lag
The hedge-fund risk that is hard to hedge
ETFs that short their own shares
The dividend hike of the week
Gross output versus gross domestic product
The Keystone XL pipeline and immigration reform
Keep up with all the latest breaking news and trading ideas by following us on Twitter.
View Comments and Join the Discussion!
Posted-In: Aereo AIG American International Group avago Barron'sPre-Market Outlook Media Trading Ideas Best of Benzinga