Barron's Recap: Bad News For Putin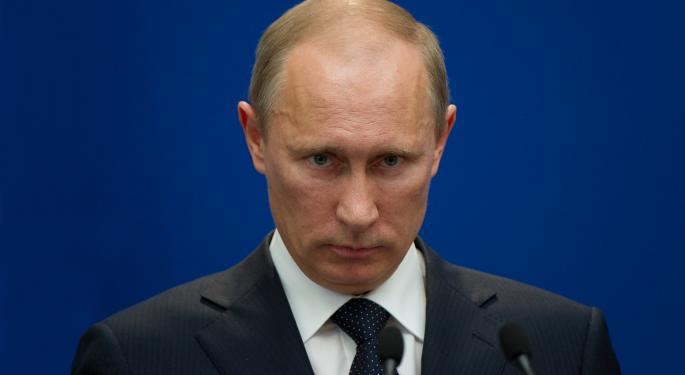 This weekend in Barron's online: the effects of oil at $75 a barrel, the next stage of Obamacare, as well as the prospects for Tesla's Gigafactory, DDR, Exact Sciences and more.
Cover Story
"Here Comes $75 Oil" by Gene Epstein.
The long-term outlook for global oil prices is lower, says this week's cover story in Barron's, perhaps much lower. That should provide a strong boost to the U.S. economy while potentially crippling the economy of Vladimir Putin's Russia, where oil provides half of government income.
See how the old paradigm of ever increasing demand and dwindling supply has shifted to flat consumption and rising production. See how imports to and exports from the United States are expected to change in the coming years. Is a global market in liquefied natural gas likely to develop?
"I believe we are entering another period of cheaper energy that should last 50 years or more," says an expert quoted in the article.
The article makes the case for the average oil price to fall below $75 a barrel and takes a look at how that could affect the Russian economy. A graph shows the decoupling of domestic oil and natural-gas prices that occurred a few years ago. And the article discusses how, while the oil and gas boom may not welcome to environmentalists, it ought to be.
See also: Brent Poised To Post First Weekly Gain Since February
Feature Stories
"Tesla's Giga-Plan Looks Too Ambitious" by Bill Alpert suggests that while Elon Musk's daring plan to build an enormous factory to significantly lower the cost of lithium battery packs for Tesla (NASDAQ: TSLA) vehicles could work, there is a very big catch.
Jack Hough's "Not Enough Dollars to Go Around" makes the case that there is insufficient ad spending to justify the high-flying valuations on Google (NASDAQ: GOOG), Facebook (NASDAQ: FB), Twitter (NYSE: TWTR) and other dot-coms.
In "Ready to Bag a Bargain?" Jacqueline Doherty points out that rents are rising and debt is falling at shopping-center real estate investment trust (REIT) DDR (NYSE: DDR). See why the shares could rally nearly 25 percent.
Corporate America's switch to private health-care exchanges could be a bigger deal than Obamacare's public health-care exchanges, says "And Now for the Real Health-Care Reform" by Sandra Ward. See who could be potential winners and losers.
"Preventing Cancer's No. 2 Killer" by Andrew Bary discusses how Exact Sciences (NASDAQ: EXAS) shares could rise 50 percent if the biotech company's colon cancer test ramps up swiftly. However, short sellers are betting against that happening.
In Michael Shari's "On Top of the World," Lawrence Speidell, founder of Frontier Market Asset Management, is profiled. See how by searching for companies far off most investors' radar, Speidell has discovered some gems over the years.
Brian Pfeifler, a top Barron's financial advisor in 2013, shares his best advice in Steve Garmhausen's "Betting Big on Banks." See why, thanks to drum-tight lending standards, Pfeifler prefers investments in money-center banks, big brokerages and technology.
In the Penta article "How to Invest $25 Million" by Robert Milburn, the focus is on the "bucket" approach to building wealth that Ascent Private Capital Management uses. See how this is complemented by an investing style popular with universities.
"Danger Ahead for Tax Loopholes" by Lawrence C. Strauss features an interview with tax guru Robert Willens. He discusses tax-reform proposals coming out of Washington and how they might affect REITs, AT&T and other businesses.
"The New Debt Bubble" is an editorial commentary by Thomas G. Donlan that discusses how college students are borrowing their way to prosperity.
See also: Quicken Loans Wins Big In Billion Dollar Bracket Challenge
Columns
Columns in this weekend's Barron's discuss:
How activists are good for both investors and companies
The upcoming March jobs report
Momentum stocks that soon could be flying high again
FINRA as the new Big Brother
Whether Mark Zuckerberg has lost his mind
Retirement and electronic-trading tools and methods
Hedge fund stocks with a long way to go
New additions to the Barron's 400
Big banks that will boost payouts
Office suite for Apple's iPad
Keep up with all the latest breaking news and trading ideas by following us on Twitter.
Posted-In: Apple AT&T Barron's DDR Elon Musk EXACT Sciences FacebookMedia Best of Benzinga
View Comments and Join the Discussion!