Barron's Recap: Treasure Hunt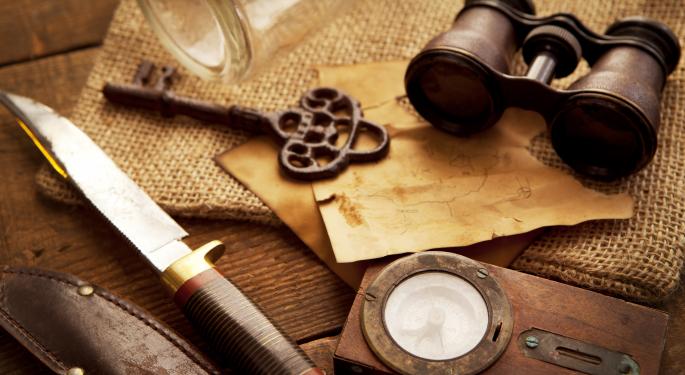 This weekend in Barron's online: Barron's Penta Quarterly, as well as the prospects for Verizon Communications, Yum! Brands, Atwood Oceanics, FTD Companies and more.
Cover Story
"Treasure Hunt" by Karen Hube.
In the current turbulent market, leading wealth managers favor a triple-play of alternative investments: hedge funds, private equity and private debt, according to this week's cover story in Barron's.
Penta's annual asset-allocation survey asked 40 of the leading U.S. wealth-management firms to spell out in tactical detail their model-portfolio calls, and the poll revealed that advisors are still bullish on stocks for 2014. The full results of the survey are included in the article.
See why alternative investments are finally getting some respect. And also see what the triple-play approach has to offer.
See also: More Big Moves In Social Media Short Interest
Feature Stories
"Verizon Has the Edge in the Wireless Wars" by Andrew Bary suggests that Wall Street's concern about increasing competition in U.S. wireless is creating an opportunity for Verizon Communications (NYSE: VZ) investors.
Reshma Kapadia's "Fried Chicken, Seafood Pizza, and Humble Pie" points out that Yum! Brands (NYSE: YUM) has stumbled in China over safety issues. But see how the company is moving to return to growth.
In "Atwood Oceanics: An Exceptional Oil Play," Avi Salzman says that while shares of offshore oil drillers may have become stuck in the mud this year, Atwood Oceanics (NYSE: ATW) should be about 40 percent higher. See the article to find out why.
The little-followed stock FTD Companies (NASDAQ: FTD) is inexpensive, according to David Englander's "Flower Power: Why FTD Will Deliver." Check out the article to see why the florist network's prospects look good.
"Discovering Growth" by Jack Willoughby features a profile of Buffalo Discovery fund manager Dave Carlsen. In the article, Carlsen discusses how he finds technological innovations in some fairly uncommon industries.
In Lawrence C. Strauss's "Still in Love With Real Estate… and More," the founders of Cohen & Steers, Martin Cohen and Robert Steers, are interviewed. Though they still see much to like in their first love of real estate, see why now they are focused on other hard assets, as well.
Financial advisor Alan Zafran offers his best advice for managing risks in "The Risk-Wary Adventurer" by Steve Garmhausen. See why Zafran considers alternative investments as a way to do just that, and to achieve returns too.
In "The Case for Rebalancing" by Walter H. Weil, the focus is on where investors' should be looking. Rather than focusing on last year's stock gains, they should be looking ahead at investor sentiment, possible Fed actions and equity valuations.
"Stop Protecting Progressivity" is an editorial commentary by Thomas G. Donlan in which he suggests that every dollar of income should be taxed at the same rate.
See also: Tesla Motors Looks To The Future With $5 Billion Battery Factory
Columns
Columns in this weekend's Barron's discuss:
U.S. markets at record levels as tensions rise in Ukraine
Why investors should keep their eyes on China and the Fed
The debt owed to central bank money-printing
What was unveiled at the wireless conference in Barcelona
Fidelity's new software that helps with exit strategies
An inexpensive tablet aimed at youngsters and their parents
Minimizing the tax hit in mutual funds
How components of factor-based ETFs are selected
Books on banking crises, madness in modern society and more
Results of a five-year study of global dividend trends
Defending the official jobless rate
The GOP and the debate of tax reform
Online Exclusives
Barron's online exclusives this weekend include:
"Byron Wien on Economy, Mid-Term Election Curse." The senior advisor to Blackstone and veteran Wall Street strategist discusses the history supporting a stock market correction this year. He explains what worries him about the policy programs pursued by almost every world leader, starting with Japan, then moving on to China, Europe and the United States. He also discusses the relationship between market corrections and mid-term elections.
Keep up with all the latest breaking news and trading ideas by following us on Twitter.
View Comments and Join the Discussion!
Posted-In: Atwood Oceanics Barron's FTD Companies verizon communications YUM! Brands Barron'sMedia Best of Benzinga