Barron's Recap: The Best and Worst States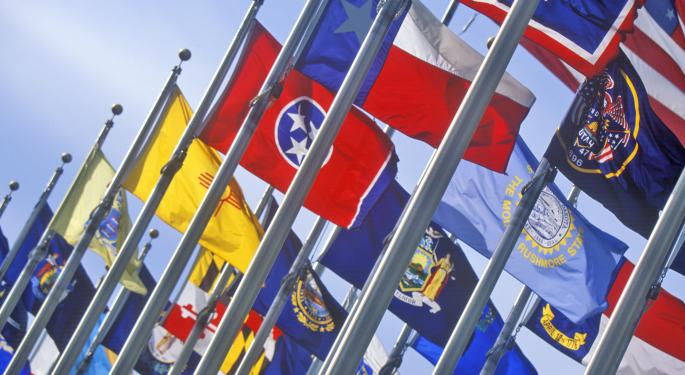 This weekend in Barron's online: Barron's yearly ranking of the best and worst states, as well as the prospects for Kulicke & Soffa, Coeur Mining, Spirit Realty, Sears and more.
Cover Story
"Munis on the Mend" by Andrew Bary.
While there still may be problems in the municipal-bond market, says Barron's in this week's cover story, those problems are less serious than many investors may believe. In fact, most of the more than $3 trillion muni bond market is in healthy financial condition.
True, there have been those ominous headlines about problems in Detroit and Puerto Rico, and many state and local governments do face problems with unfunded pension and health care obligations. However, "Investors have overreacted and worry that problems may be everywhere," says a portfolio manager quoted in the article.
See how the fiscal situation in most states continues to improve, as well as why, back in August, Moody's upgraded its credit outlook for the states to stable from the negative view that had prevailed since the 2008 financial crisis. Particular attention is paid to the situations in California, Florida, Illinois and Nebraska.
The article includes a ranking of the states, based on an Eaton Vance study, showing debt and pension liabilities as a percentage of gross domestic product, as well as bond ratings. There is also a similar table covering 20 major cities in a sidebar titled "Windy City Is the Risky City." See why muni bond investors should be particularly wary of Chicago.
See also: Welch Predicts Low GDP For Q3 And Hurting Workforce
Feature Stories
"Six Stocks with Rising Earnings Estimates" by Jack Hough points out that a record number of companies lowered guidance for third-quarter earnings. Allstate (NYSE: ALL) and Smucker (NYSE: SJM) are among the few bucking that trend.
Andrew Bary's "A Hidden Value in Semiconductor Equipment" suggests that Kulicke & Soffa (NASDAQ: KLIC) looks like "an activist's dream" because it is loaded with cash, it has a dominant position in its market and the shares are really cheap.
In "Building the Cloud: Who Wins, Who Loses," Tiernan Ray says that traditional IT suppliers like Cisco Systems (NASDAQ: CSCO) are under siege from cloud operators like Amazon.com (NASDAQ: AMZN) and Google (NASDAQ: GOOG).
Richard "Richie" Freeman is profiled in "Clearbridge Aggressive Growth: Waiting for the Right Pitch" by Lawrence C. Strauss. Freeman has been a fund manager for 30 years, and he shares why takes a long-term view and makes big bets on his favorite picks.
"The World According to Jim Rogers" by Kopin Tan features an interview with investor and author Jim Rogers. He shares why he likes agriculture and Chinese airlines, but he is concerned about currency turmoil. And he recommends that young Americans learn a foreign language.
In David Englander's "Digging Itself Out of a Hole," the focus is on Coeur Mining (NYSE: CDE). See why, as the large U.S. gold and silver producer restructures its operations, its share price could rise 50 percent or more.
Shares of Spirit Realty (NYSE: SRC) could rally 30 percent or more, says Avi Salzman's "Spirit Realty Deserves Wall Street's Respect." And note that the yield of this real estate investment trust (REIT) is more than seven percent.
In "Sears Rally Belies Big Worries About the Retailer's Prospects and Real Estate" by Jacqueline Doherty, see why, as Sears Holdings (NASDAQ: SHLD) management sells off property to raise cash, the portfolio could be worth much less than bullish investors think.
"In Search of Practical Information" is an editorial commentary by Jack T. Ciesielski in which he makes the case that mandated disclosures about executive pay are inadequate.
See also: A Sell Signal Worth Paying Attention To
Columns
Columns in this weekend's Barron's discuss:
Market reaction to the government shutdown
Market reaction to a possible debt deal
A turnaround at Bridgeway Capital Management
New exchange traded funds that expand the definition of a stock's yield
A plan for $1.5 trillion in debt reduction over 10 years
A Reagan-era budget director's call for a huge tax on the rich
Reasons to like micro-cap stocks
United Technologies (NYSE: UTX) dividend hike
Posted-In: allstate Amazon.com Barron's Cisco Systems Coeur Mining GoogleBarron's Media Best of Benzinga
View Comments and Join the Discussion!